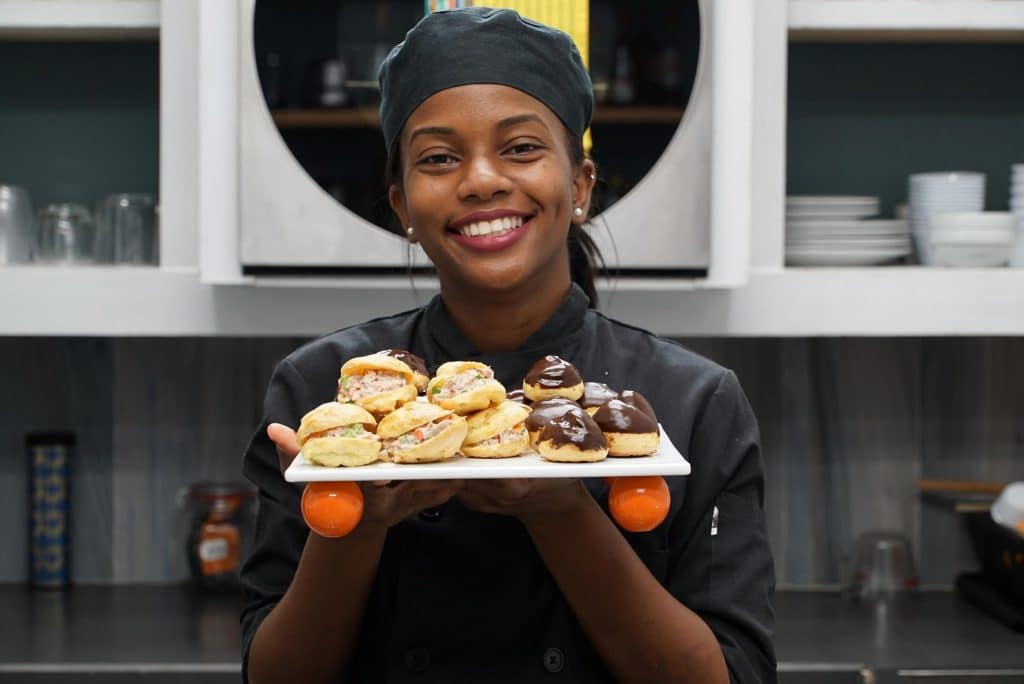 This classic French dish is an ultimate show shopper. Pate Choux or Choux pastry can be made into a variety of sweet or savory dishes. I love this versatile mixture for making puffs. Puffs are one of those familiar items persons would bring to a house lime or even for class parties. I remember growing up my Aunt would take me to a bakery and the puffs were so huge I wouldn't be able to finish it. They were always packed with filling and really tasty. Not until I went to Culinary school I realized puffs can be sweet and savory too. I decided to share this recipe because I felt like a lot of people like myself wasn't aware of the versatility of this dish. The same dough can be used in Eclairs, churros and many more delicious pastries. The coffee cream puffs are so decadent and the tuna puffs are so tasty. These two fillings complement the puffs very well. As always I hope you enjoy!
Ingredients
Pâte à choux
1C Water
1/2C Butter
1 Tsp Sugar
1 Pinch Salt
1C Cuisine All-Purpose Flour
4 Eggs
2 Eggs – (Egg wash)
Coffee cream filling & chocolate topping
1C Whipping Cream
2 Tbsp Coffee (instant)
1 Tbsp White sugar
2 Tbsp Water
1/2C Chocolate chips
2 Tbsp Butter
Tuna filling
1 can Cuisine Tuna chunks (In water)
¼ C Sweet pepper (green and red)
2 Pimentos
1 small Tomato
2 Tbsp Fresh Parsley
½ Lime
¼ C Mayonnaise
Salt- To taste
Black Pepper – To taste
Method – Puff Pastry
Preheat oven to 375 degrees. Line two baking sheets with parchment paper.
Make the egg wash by whisking the eggs until combined and set aside.
In a pot over medium heat combine the water, butter, sugar and salt. Bring to a boil and quickly stir in the flour with a wooden spoon. Continue to stir and allow to cook for 3 minutes on low heat. Remove from heat and transfer to a bowl to cool for 5 minutes. Add eggs one at a time, stirring powerfully to incorporate eggs into the mixture.
Transfer the pate a choux to a large pastry bag fitted with a plain tip or use a zip lock bag and snip the end off. Pipe 1-1/2-inch rounds onto each prepared pan. Note: (Dip your fingertips in water and gently press the top of the puffs making sure a smooth, round top.)
Brush the top of the puffs with egg wash. Bake until puffs rise and are golden brown, about 25 minutes. Note: (Make sure all the sides are golden brown and fully cooked before removing from the oven. The puffs should feel light and hallowed .Add an extra 5 minutes if the puffs aren't fully cooked. Do not open oven while baking as it might result in deflated puffs.)
Allow to cool. Fill half of the puffs with coffee cream and dip in chocolate and the other half with the tuna paste.
Method – Coffee Cream Filling & Chocolate Topping
In a bowl using a hand or stand mixer whip whipping cream until stiff peaks form (Note: Stiff peaks meaning when you pull the cream up the peak formed remains stiff and upright.)
Combine well the coffee, sugar and water in another bowl.
Add the coffee mixture to the whipped cream and whip until stiff-medium peaks are formed.) Place in the fridge to keep cold.
In a microwavable safe bowl place, the chocolate chips and butter on 10 second intervals for 3 times. Note: (After each interval stir the mixture. In the end you should have a smooth liquid.)
Method – Tuna Paste Filling
Chop all vegetables into small diced pieces.
In a bowl place all the ingredients and stir until well combined. Note: (Be sure to drain out the liquid from the tuna and be careful of the seeds in the lime.)