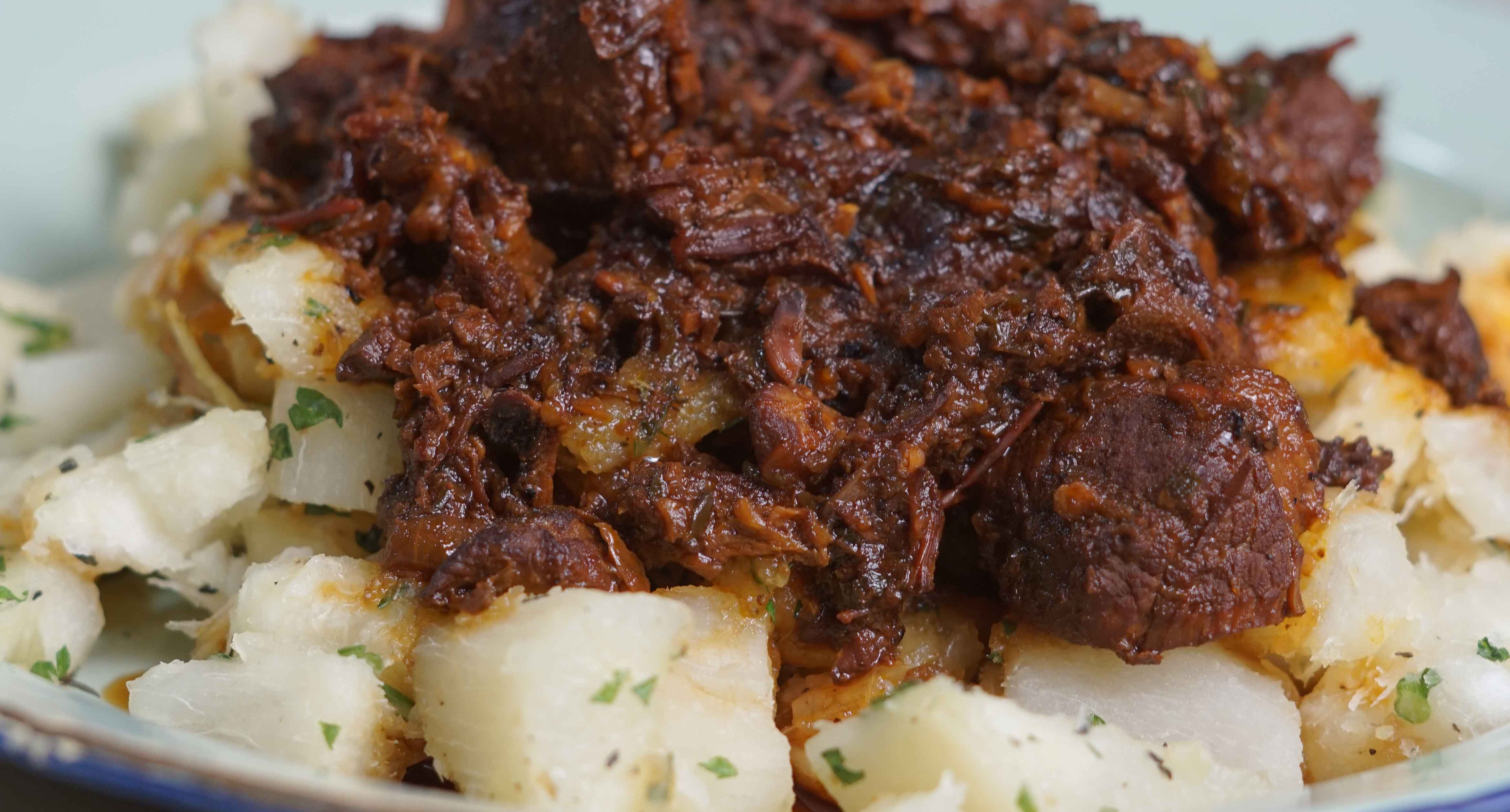 Stew Pork

Stewed Pork
Ingredients
3 lbs of pork shoulder, cut into 1.5 inch cubed pieces
4 tbsp of green seasoning* (recipe below)
1 lime, juiced
1 tbsp soy sauce
1/3 cup of Cuisine Genuine Demerara Brown Sugar
3 bay leaves
5 cloves
2 tsp of minced ginger
2 tsp of chopped onion
3 tsp of minced garlic
1 tbsp of minced pimentos
2 tbsp of roucou
5 local/plum tomatoes, diced
2 cups of hot water
1 tsp thyme leaves
1 tsp chopped chive
1 tsp chopped shadon beni
1 tsp  chopped parsley
1 tsp  chopped Spanish thyme
1 hot pepper
Salt and pepper, to taste
Method:
Place pork, green seasoning, soy sauce and lime juice in a large bowl. Massage the seasoning into the meat. Cover with plastic wrap and allow to marinate for at least 2 hours.
Heat a heavy-based iron pot over a medium flame. Add the Cuisine Genuine Demerara Brown Sugar to the pot and stir. When the sugar reaches a deep caramel colour, carefully add the marinated meat to the pot.
Coat the pork with the caramelized brown sugar. The pork will begin to naturally spring water after about 3 minutes.
At this time, add the bay leaves, ginger, garlic, onions, pimentos, cloves and tomatoes and stir.
Add the roucou and hot pepper
Allow to cook on low simmer for 8 to 10 minutes.
Add 2 cups of hot water and allow to simmer for 2 hours.
Serve over provisions, rice or pasta dishes.
Garlic and Herb Cassava
Ingredients
1 lb of cassava, peeled
3 oz of butter
2 tsp of chopped garlic
3 tsp of thyme leaves
3 tsp of chopped parsley
3 tsp of chopped rosemary
Salt and pepper, to taste
Method:
In a large pot, boil the cassava until tender.
Remove the boiled cassava and allow to cool.
Slice the cooled cassava lengthways and removed the inner vein and chop into bite-sized pieces.
In a medium saucepan, sauté the chopped garlic with the butter until tender and add the chopped cassava. Coat the cassava in the butter and add the fresh herbs, salt and black pepper.
Serve warm.
Green Seasoning
Ingredients
5 cloves of garlic, peeled
1 onion, peeled
3 pimentos, stems removed
6 stalks of chive
4 shadon beni leaves
6 thyme stalks
4 stalks of parsley
Method:
Place ingredients into a blender or food processor.
Pulse until fine.
Use as needed.