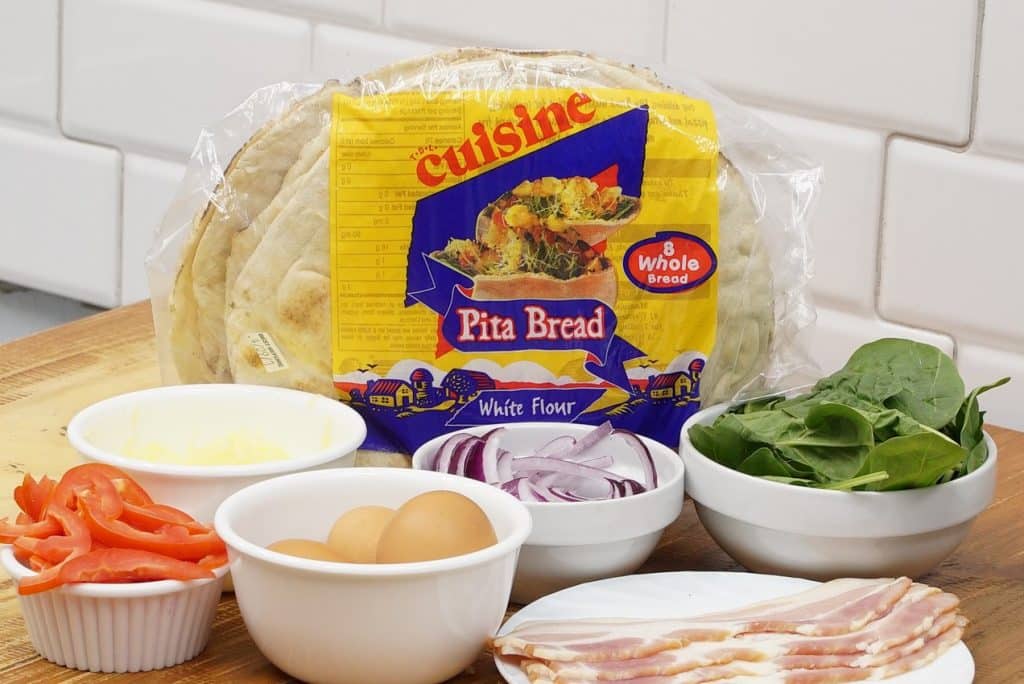 Having to always be on the go means no time to prepare breakfast. This is truly my everyday struggle but these Cuisine Pita breads make it easy for me. They are versatile and very reasonable compared to other brands. It can be made as a flatbread, wrap, sandwich, savory and even sweet. The possibilities are endless with the creations that can be made using this pita bread. Hope this helps lessen the workload in the early morning rush. Until next time. Enjoy!!!
Ingredients
1 bag Cuisine Pita bread (white or wheat)
1 pack Bacon stripes
1 C Spinach leaves (baby)
1 Medium Red onion- Sliced thinly
1 Medium Tomato- Sliced thinly (seedless)
½ C Cheese-Grated
2 Eggs
Salt- To taste
Black pepper- To taste
Method
Preheat oven on broil and separate all ingredients into 2 parts. Note: (If oven does not come instructed with a broiler option a high heat at 400 degrees will work.)
On medium heat cook bacon until crispy. Note: (Do not dry out the bacon, allow it to still have some moisture as it still cooks in the oven.)
In another pan heat the pita bread on both sides making sure its browned. Take if off the fire. Next place all the vegetables making a well in the center. Note: (Make sure the pan using is oven safe.)
Add the egg in the center, season and top off with cheese and bacon.
Place into the oven for 5 minutes.
Serve hot and enjoy!
Use the next half of the ingredients to assemble the sandwich. Note (Heat the pita bread the same way and then cut down the middle. Cook the eggs into an omelet or feel free to make scramble eggs. Layer vegetables, cheese and bacon.
Serve and enjoy!