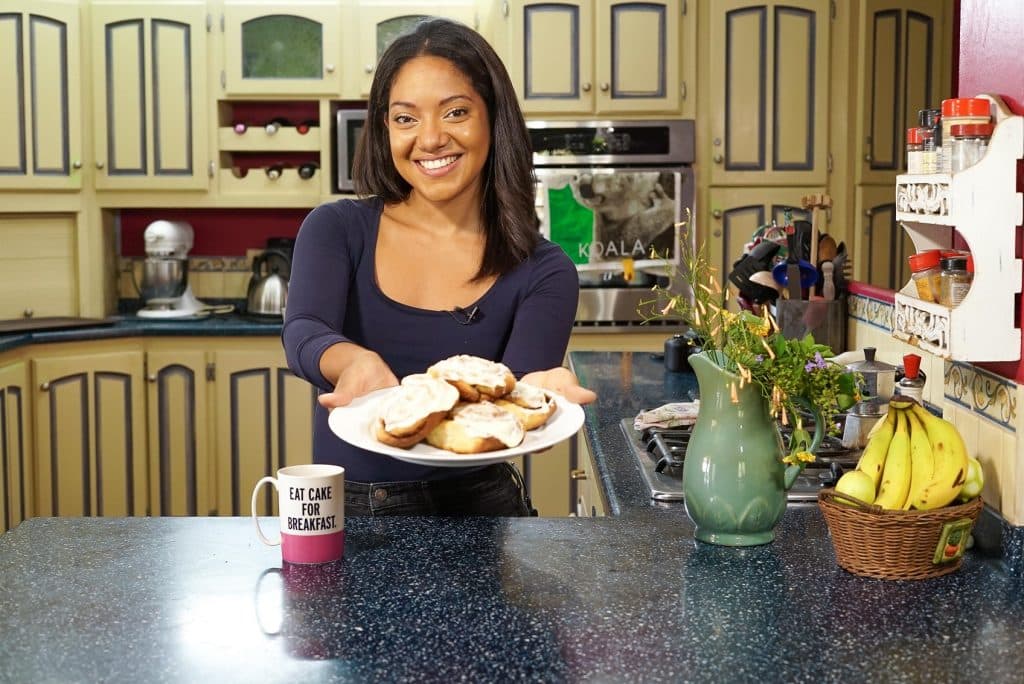 This recipe makes ten cinnamon buns
Dough
2 cups of all-purpose flour
½ cup of granulated sugar
2 ½ tsp of instant yeast
1 tsp salt
1 ½ ounces of melted unsalted butter
1 egg at room temperature
¼ cup warm full cream milk
½ cup of warm water
Cinnamon filling
¼ cup brown sugar
¼ cup of granulated sugar
1 ½ tbsp. of ground cinnamon
3 ½ ounces of unsalted butter
Cream Cheese Glaze
4 ounces of softened cream cheese
2 ounces of unsalted butter
2 cups of icing sugar
1 tbsp. ricotta or mascarpone cheese
Zest of one lime (orange or lemon can be used as well)
Method – Cinnamon Buns
Combine all dry ingredients in a bowl.
In a large bowl, combine the milk, water, egg and melted butter.
Dump dry ingredients into the wet ingredients and stir to form a sticky ball.
Transfer dough onto a well-floured surface and gently knead for 2 minutes or until the dough is soft and no longer sticky.
Transfer dough into a lightly greased bowl and loosely cover with a tea towel or plastic wrap.
Let rest in a warm, dry place, away from any direct sunlight for 20 minutes.
For the filling, mix softened butter, cinnamon and sugars together to form a paste. Set aside.
After the dough has rested for 20 minutes, transfer onto floured surface.
Using a lightly floured rolling pin, gently roll out dough into a rectangular shape, about ¼ inch in thickness.
Evenly spread filling onto dough.
Gently roll the dough into itself, forming a log/cylinder shape.
Cut dough into 10 even pieces and place into greased baking dish, lined with wax paper.
Loosely cover with plastic wrap and allow to rise for 1 hour or until buns have doubled in size.
Bake in oven at 350F for 30 minutes or until golden brown.
Add glaze to warm buns and enjoy!
Method – Cream Cheese Glaze
Using an electric mixer or by hand, combine softened butter and cream cheese.
Gently fold in icing sugar, in two separate additions.
Beat in ricotta/mascarpone cheese.
Fold in lime fresh zest.