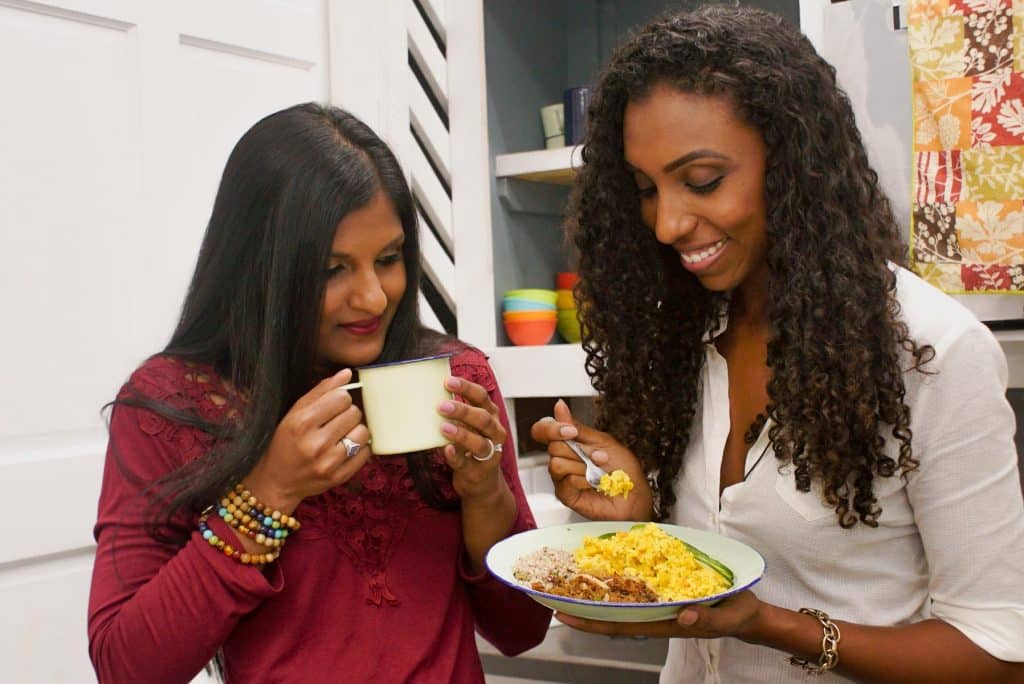 On her recent trip back home to Trinidad & Tobago, Reshmi from the popular YouTube channel, Taste Of Trini visited our kitchen to share her mom's recipe for Kitchari. It was a pleasure sharing a meal with her and we hope to meet up and collaborate again in the future. Check out her recipes below.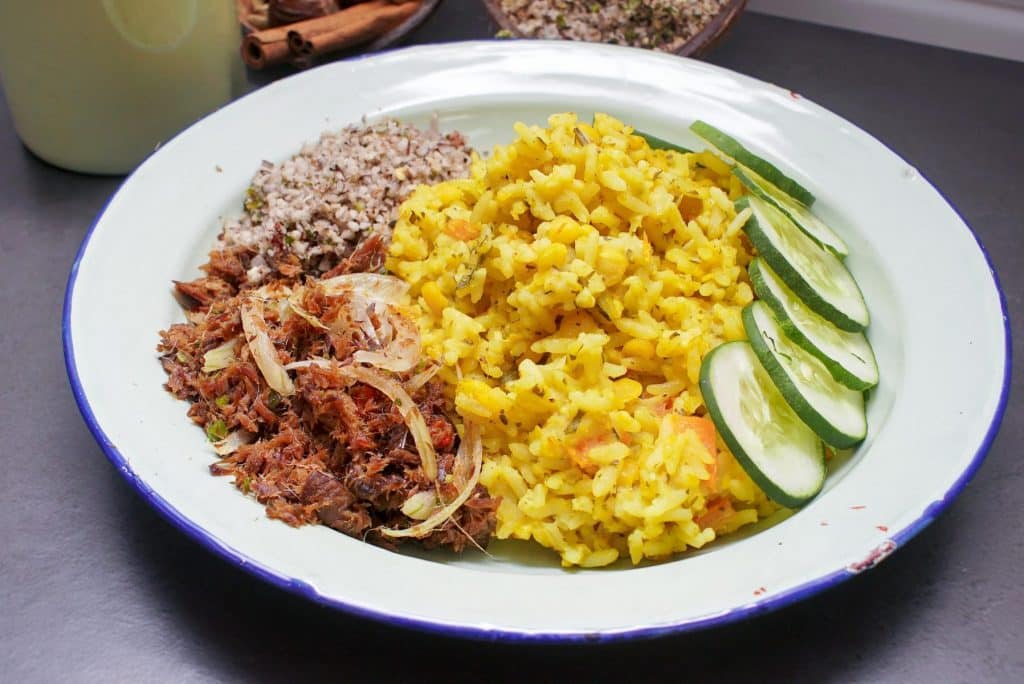 Kitchari:
1 tablespoon of oil
2 cups of parboiled rice
1 cup of split peas/dhal, boiled until tender
1 large carrot
1 green sweet pepper + 1 orange sweet pepper
2 tablespoons of chopped bandhania/shadon beni
5 pimento peppers
2 tablespoons of minced garlic
1 hot pepper
1 tablespoon of chopped celery leaves
½ cup of basic green seasoning (bandhania/shadon beni, garlic & hot pepper)
1 ½ teaspoons of turmeric powder
2 ½ cups of fresh coconut milk
1 tablespoon of salted butter
Salt + black pepper (to taste)
Method:
Place pot on medium-high heat, and add oil. Add onions and let it sauté for 1 minute. Then, add garlic, hot pepper, and pimento peppers. Sauté for 30 seconds.
Add rice and let it fry for 1 minute. Add split peas or dhal, coconut milk, carrots, sweet peppers, green seasoning, and turmeric powder. Add enough water to cover the rice (about 2 cups). Add salt, cover the pot and let it simmer on medium-low heat for 30-45 minutes.
After the rice is fully cooked, add the chopped bandhania/shadon beni, celery leaf, and some black pepper. Let it cook, uncovered for about 5 minutes. Then, finish with some salted butter. Enjoy!
Coconut Chutney:
1 dry coconut, roasted on an open flame
2 tablespoons of chopped bandhania/shadon beni
1 tablespoon of minced garlic
1 hot pepper (optional)
Salt
Method:
Roast coconut on an open flame until most of the surface is charred. Use a knife to scrape the charred bits, and then grate it on the finest side of your grater or chop it in the food processor. Add bandhania/shadon beni, minced garlic, hot pepper and salt.
Smoked-Herring Choka:
8 smoked-herring fillets, boiled and de-boned
1 onion, sliced
Hot pepper
2 teaspoons of hot oil
Method:
Boil smoked-herring fillets and pull the fine bones out. Pull apart finely with your fingers, or use a fork to break it into smaller pieces. Add onion, and hot pepper. Heat oil on the stove until it starts smoking. Add it over the onion, hot pepper and smoked-herring, and mix thoroughly. Add some chopped bandhania/shadon beni for extra flavour. It usually doesn't need salt, but you can taste and add accordingly.