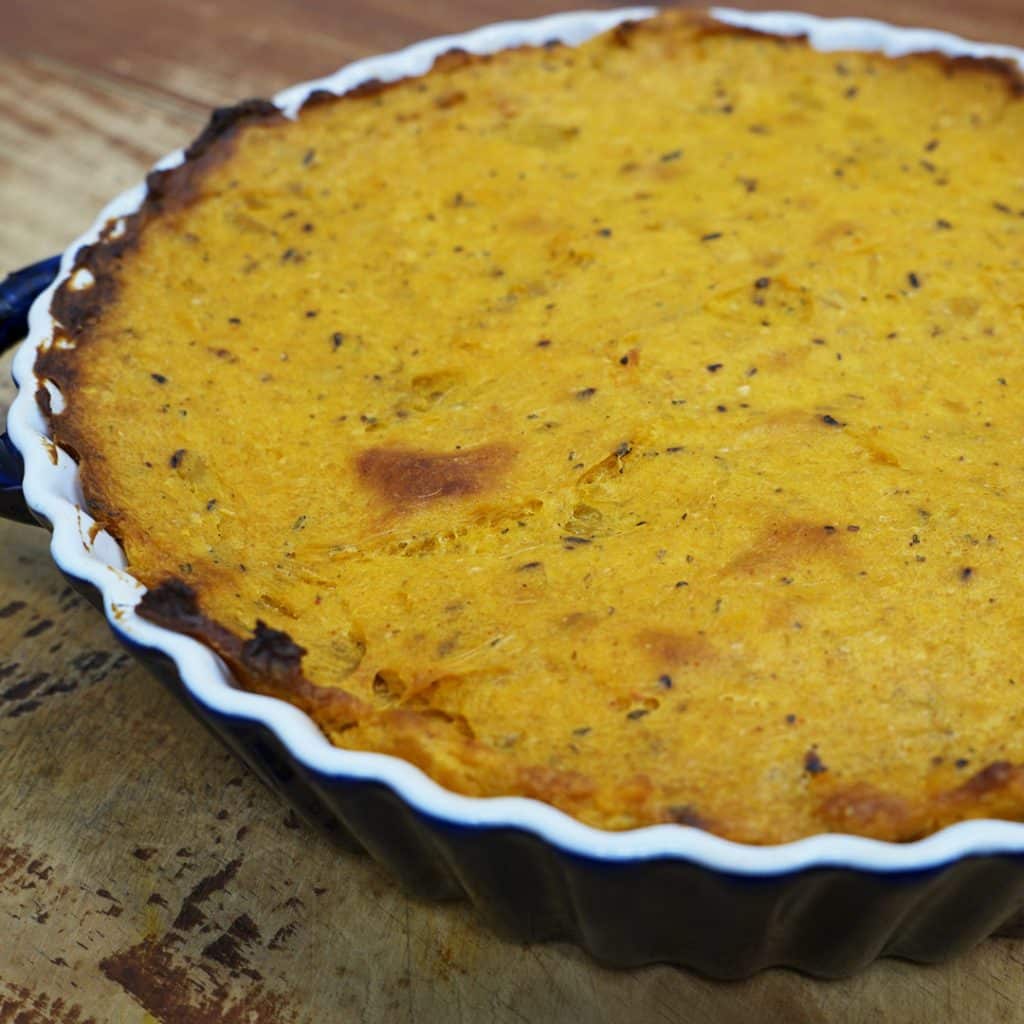 This recipe for sweet potato pie is one I came up with a couple years ago. I experimented with a combination of spices and different herbs but ultimately settled on this combination. Sweet potato is… well… sweet, so I used precise flavor combinations to contrast and compliment the sweetness. I did weigh the sweet potatoes when I purchased them in the market but I can't remember the weight, I don't have a scale in the kitchen (should probably get one) and I'm not one of those people who can "heff" a grap of plantains and tell you with clinical precision "yeah this is three and a half pounds!". So for this recipe which is a family size serving of sweet potato pie, I had 6 medium sized sweet potatoes. The other ingredients are listed below.
Ingredients
1/2 cup Melted Butter
1 cup Full Cream Milk
1 head of Garlic
1 tbsp Geera (Cumin) Seeds
1 tbsp Paprika
1 sprig of Rosemary
Salt & Black Pepper (to taste)



This is a very simple recipe with very basic prep but the results are very satisfying.
Method
Put a pot of water on the stove to boil then start off by peeling and dicing the sweet potatoes into half inch cubes. Put them in a bowl of water to stop it from oxidizing.
When your water comes to a boil, add a teaspoon of salt then add the sweet potato. This will take about 10-15 minutes to cook. Go ahead and prep your other ingredients while the potatoes are cooking.
Smash and finely dice your garlic. Smashing/ bruising the garlic releases all of its flavor. I would say use the whole head of garlic but if you're not a huge fan of garlic you can stop following Eatahfood right now. (Just kidding) Go ahead and use about 4 cloves if you are so inclined.
Toast the geera/cumin seeds in a pan, once they start to pop they are ready. Keep a close eye on them, don't let them burn.
Finely chop the fresh rosemary.
Once potatoes are cooked till tender, strain in a colander then put back in your pot (no sense in dirtying a bowl to make our sweet potato mash)
Add the melted butter, milk, toasted geera, paprika and black pepper then mix. If you find your mixture to be a little stiff don't be afraid to add a bit more milk. We're going for a nice smooth texture which will give us a creamy pie.
Add mixture to a 12 inch pan/ baking dish and bake in the oven for 45 mins – 1 hour at 350 degrees.
Now its totally up to you if you wanted to add cheese to this dish. I used to in the past and might still do so from time to time but I tend to enjoy this as is. Its beauty is in the simplicity of it 🙂 You can use a muffin tray to make single serving pies or even use a spoon and scoop out individual portions on a baking tray for a more rustic approach.
You can switch out the butter for olive oil or coconut oil and switch the milk to coconut milk or you could even omit the milk all together and just leave some of the boiled water in the sweet potatoes when draining to make this a vegan dish. Of course you want this to be cool before cutting it, you will end up with baked mashed potato. I hope you try this, if you do let me know down in the comments how it tasted and if you made any alterations to the recipe.
Enjoy!