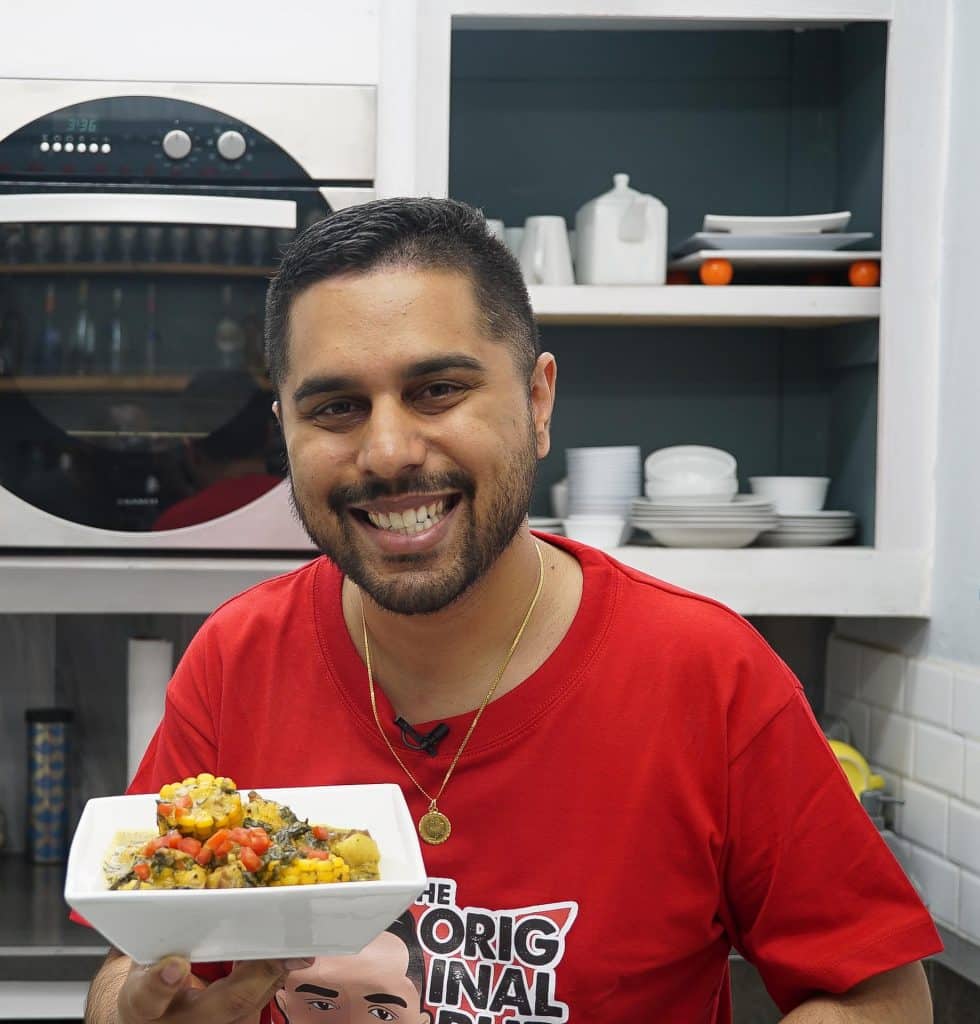 Chef Jason Peru takes Curry Corn to the next level by taking some inspiration from oil down and incorporating some ingredients and flavors to create a "souped up" version to this dish.
Ingredients Needed
3 Tbsp of Coconut Oil
¼ Tsp of Whole Cumin Seeds ( Geera Seeds )
¼ Tsp Maithee Seeds ( Fenugreek )
2 Cardamom Pods
¼ Tsp Mustard Seeds
2 Tbsp of Chopped Onions
1 Tbsp of Chopped Garlic
2 Tbsp of Minced Celery
1 Tsp of Minced Ginger
1 Tbsp of Chopped Chadon Beni
4 Carapoulay Leaves ( Curry Leaves )
1 Tbsp of Chief Brand Curry Powder
1 ½ Tsp of Chief Brand Turmeric Powder
¾ Tsp of Chief Brand Cumin Powder ( Geera )
¾ Tsp of Chief Brand Garam Massala
¾ Cup of Water
3 Ears of Corn – Half-Boiled ( 1 Inch Slices )
2 Cups of Coconut Milk
2 Cups of Water
1 Tbsp of Split Pea Powder
8 Oz of Pre-boiled Salted Pig Tails ( ½ Inch Pieces )
1 ½ Cups of Dasheen Bush Bhagi ( Chopped Spinach )
2 Tbsp of Chief Brand Tamarind Sauce
Dumpling Pieces ( Recipe Follows )
2 Tbsp of Chopped Chives
1 Tsp of Minced Spanish Thyme
Salt and Pepper to taste
3 Tbsp of Diced Tomatoes

Dumplings Recipe
½ Cup All Purpose Flour
½ Tsp Chief Brand Turmeric Powder
½ Tsp Baking Powder
½ Tsp Salt
Water ( About 6 Tbsp )
Method
Place a Medium Iron Pot over High heat. Add the oil and toast cumin seeds, maithee, cardamom pods and mustard seeds for 30 seconds.
Add your aromatics; onions, garlic, celery, ginger, carapoulay leaves and Chadon beni. Sauté for 1 minute until fragrant then add your spices; curry, turmeric, cumin and garam massala. Mix and stir well allowing the spices to cook for about 1 minute in the pot over the high heat.
Add ¾ cup of water and cook this curry paste for 3 minutes covered.
Add your corn pieces and stir to coat. Let it cook for 1 minute then add the coconut milk and water. Mix well ensuring to scrape the bottom of the pot with pot spoon to remove any caramelized bits.
Whisk in the split pea powder, add the pig tail pieces, the bhagi, tamarind sauce and place heat onto a medium level. Cover and let simmer for 15 – 18 minutes.
Meanwhile make your dumplings by adding the flour, turmeric, baking powder and salt to a medium mixing bowl. Mix to combine and add the water a little at a time to form a firm but pliable sticky dough. Dust your counter with additional flour if needed and roll out dough and cut into ¼ Inch Pea Size Pieces.
After corn has been cooking for 18 minutes, remove cover and add the dumpling pieces, chives and thyme. Add an additional ½ cup of water ( if needed ) for dumplings to simmer. Mix, cover and let cook on low heat for 5 – 6 minutes.
Remove cover, taste and season with salt and pepper to preference. Sprinkle on the diced tomatoes and remove from heat.
Serve in a bowl with some toasted bread on the side or atop some boiled rice with a simple side salad.