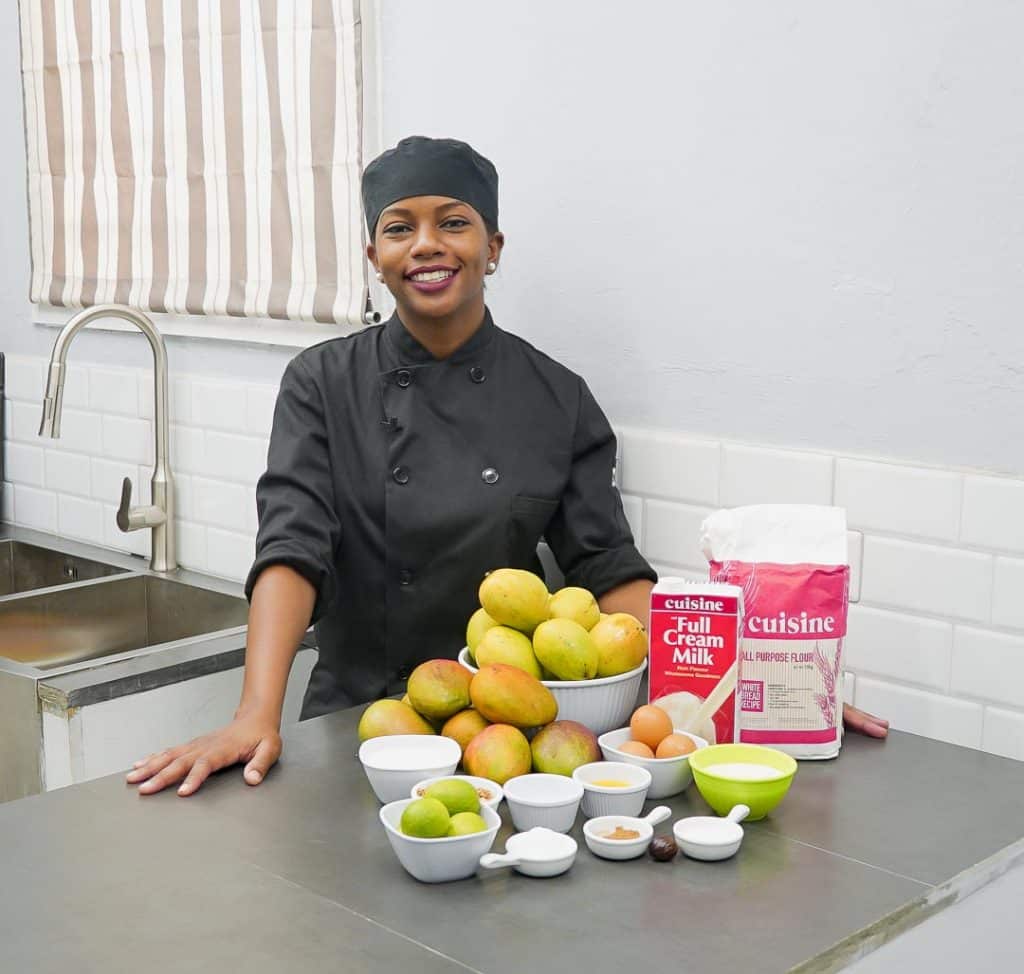 The new season brings new fruits!!!! Mangoes!!!
Mangoes have been one of my favourite fruits since I was little. So many different types there is sure a type of mango for everyone. In this episode I used Juile and Zabico mangoes in three different recipes.  The Julie has a high sugar content and the Zabico is very fibrous and has a lot of water content which makes them both perfect matches for our items today. This mango sorbet is fully packed with mango flavour and is truly refreshing! The smoothie is a delicious and healthy drink to have on the and lastly we have mango pancakes! Pancakes are very easy and they taste amazing, adding the mango cubes make it even better. I love this mango trio and hope you do too!
Ingredients
Mango Sorbet
2 Mangoes
3 tbsp. Lime juice
Method
Cut the mango into small cubes and freeze. Note: (This can be done overnight to make sure it freezes)
In a processor place the cubes of mango and lime juice. Blend the mango and lime juice until a smooth thick mixture has formed. Note: (At first it may look like nothing is happening but stick with it. Here I used my mini chopper but in a regular sized processor it works quickly! )
Continue the step until all the mango is used up. Place in an airtight container and put into the freezer for at least 4 hours.
Serve and enjoy!
Mango Smoothie
2 Cups Ice
4 Mangoes
1/2 Cup Yogurt
1/4 Cup Granola
1 pinch Cinnamon
Method
Place all ingredients into a blender on icy/smoothie drink and blend until everything is well combined.
Serve and enjoy!
Mango pancakes
 1 Cup Cuisine All-Purpose flour
2 tsp Baking Powder
2 tsp Baking Soda (optional but creates fluffy pancakes)
3 tbsp Granulate sugar
1 Pinch Salt
½ Nutmeg
1 Egg
½ Cup Cuisine full cream milk
½ Cup Mango puree
2 tbsp Butter (Melted)
½ Cup Mango (Cut into cubes)
Method
Heat an electric gridle at 300 degrees.
Place all dry ingredients together into a bowl and whisk.
In another bowl mix all the wet ingredients and whisk well.
Mix the wet ingredients into the dry ingredients and slowly whisk until there are no more lumps.
Butter the gridle and using a 1/3 c measuring cup place the batter onto the gridle. Sprinkle mango cubes on the pancake.
Once cooked on one side flip and allow to finish cook. Note: (Cook the pancake just until little bubbles start to form around the pancake and then flip)
Continue this process until all the batter is used up.
Serve hot with maple syrup or any of your favourite Enjoy!