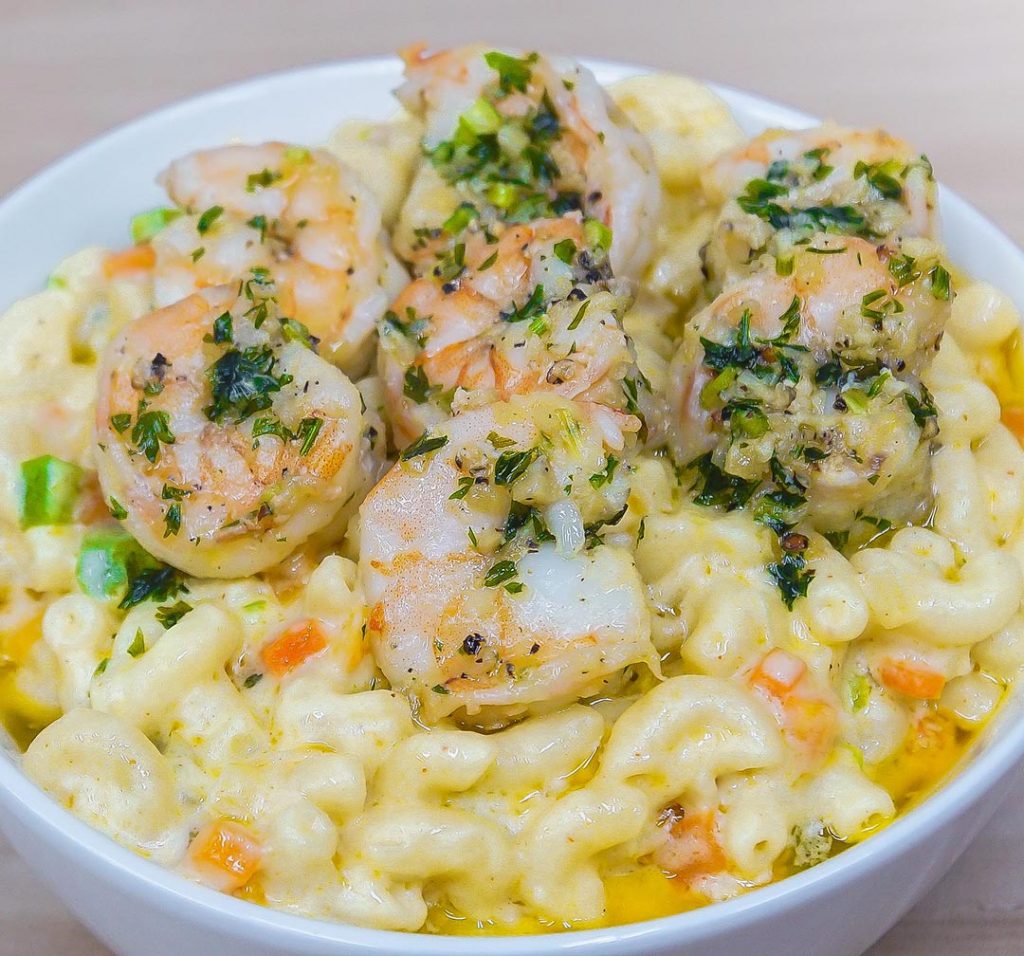 How can we go wrong with a simple Mac and cheese?? It's easy, quick and delicious! Today I made it with shrimp but feel free to add your own meat or vegetables. Perfect for a quick fix on lunch or dinner. It's a really rich dish that's packed with flavour. Another simple recipe to keep in your repertoire. Enjoy!
Ingredients:
Béchamel sauce
¾ C Butter
½ C Cuisine All- purpose Flour
3C Cuisine Full cream milk
1 Bayleaf
Salt- to taste
Black pepper to taste
Mac and Cheese
1 small onion (small diced)
1 small carrot (small diced)
1 small sweet pepper (small diced)
3 cloves garlic (minced)
2 Fresh parsley leaves (finely chopped)
2 Sprigs fresh thyme
1 pack Cuisine Elbow pasta
1/2tsp Paprika
1/2C Mozzarella cheese (shredded)
1/2C Parmesan cheese (shredded)
Salt- to taste
Black pepper- to taste
Garlic butter Shrimp
4 tbsp Butter
4 Cloves garlic (minced)
1 pack Cuisine Large shrimp
2 Fresh parsley leaves
Salt to taste
Black pepper to taste
Method
Preboil the pasta just until al dente. Note: (This simply means firm to the bite and also the pack has instructions to the back.)
Make Béchamel by firstly making the roux. On a medium heat melt the butter and then whisk in the flour until smooth. All the milk, bay leaf, salt and black pepper.
Place another pan onto medium heat and sauté all the vegetables allowing the vegetables to really sweat and break down. Note: (Allowing vegetables to sauté brings out the flavour so it builds body to the dish.
Add pre-boiled pasta, add salt, black pepper and paprika and mix well.
Include Béchamel sauce, cheeses and mix making sure everything has been fully coated in the sauce.
In another pan melt butter, sauté garlic and parsley and allow to cook to 1 minute then add shrimp and cook for 5 minutes Note: (The shrimp will turn pink in colour when it is finished.)
Enjoy with Mac and cheese!