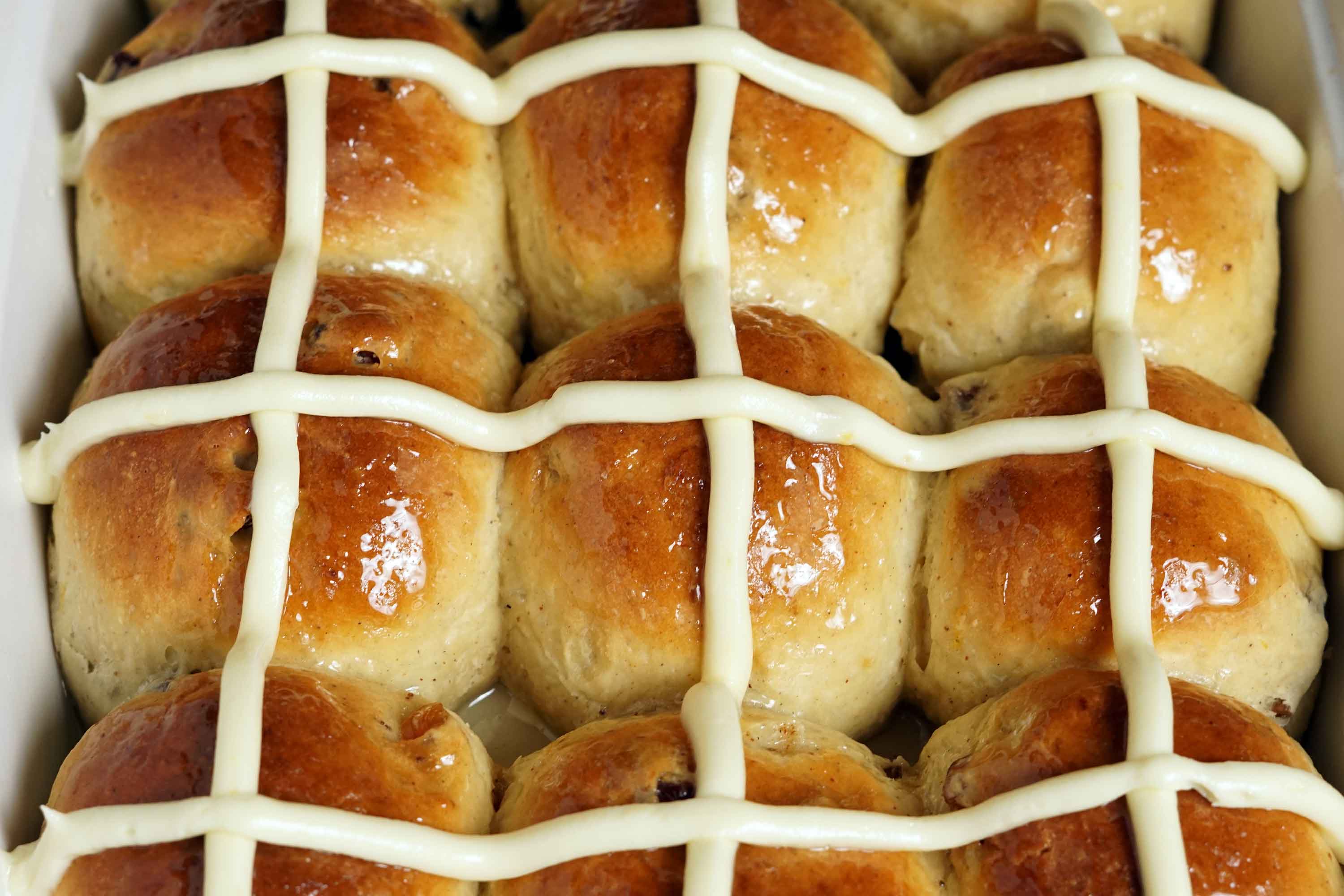 Fluffy Hot Cross Buns
Buns
1 tsp of baking soda
½ cup Cuisine Golden Raisins
½ cup Cuisine Sultanas
1 ¼  cup of Cuisine Full Cream Milk
2 oz melted unsalted butter
2 eggs, beaten
4 ½ cups of Cusine All Purpose Flour
1 packet of dry instant yeast (11g/ 1tbsp)
½ cup brown sugar
Zest of 2 lemons
Zest of 1 orange
½ tsp salt
½ tsp ground nutmeg
½ tsp ground cinnamon
½ tsp ground cardamom
Orange Syrup
½ cup orange juice
½ cup water
1 cup granulated sugar
½ tsp orange zest/ orange peel
Frosting
3/4 Cup Powdered Sugar
2 ounces (2 Tablespoons) Cream Cheese, Softened
1 Tablespoon Butter, softened
1 tsp lemon zest
Method : Frosting
Combine the cream cheese and butter together. Add vanilla.
Gradually add powdered sugar and stir until completely combined.
Add water and stir.
Set aside.
Method: Buns & Syrup
Place sultanas, raisins and baking soda in small pot of boiling water. Allow to boil for one minute. Drain and rinse with cold water. Set aside to cool completely
Gently heat the milk in a small pot until it reaching a rolling boil. Remove from heat and allow to cool to approximately 110F, or until warm enough to touch.
In a medium bowl, combine the flour, yeast, brown sugar, zests, salt, nutmeg, cinnamon and cardamom.
In a separate large bowl, combine the warm milk, eggs and melted butter.
Add half of the dry ingredients to the large bowl of wet ingredients and stir until combined.
Gently add in the reminder of the dry ingredients and work into a dough.
Once a dough forms, gently knead the mixture and form into a ball.
Dump the dough onto a floured surface and gently knead for 2 minutes or until the ball is smooth and is no longer sticky.
Place dough into a greased bowl and cover loosely with a tea towel or plastic wrap.
Allow to rest until the dough has doubled in size. Depending on the temperature of the room, this may take 1 to 2 hours.
While the dough is rising, make the orange syrup. In a small pot, combine the orange juice, granulated sugar, orange zest and water.
Place on a low flame and bring to a boil.
Once boiling, remove from heat and set aside.
Preheat the oven to 375F.
When the dough has doubled in size, punch the dough down and turn onto a clean countertop.
Divide the dough into 12 equal pieces.
Form each piece into a smooth ball and place each piece into a greased baking dish.
Allow the dough balls to rest for 20 minutes.
Once the dough has rested, place into preheated oven and bake for 25 minutes.
Remove from oven and allow to sit for 5 minutes.
Liberally brush the syrup onto the buns. Let cool for 10 minutes.
Using a piping bag or a plastic zipper seal bag, pipe a cross onto each bun.
Serve warm.