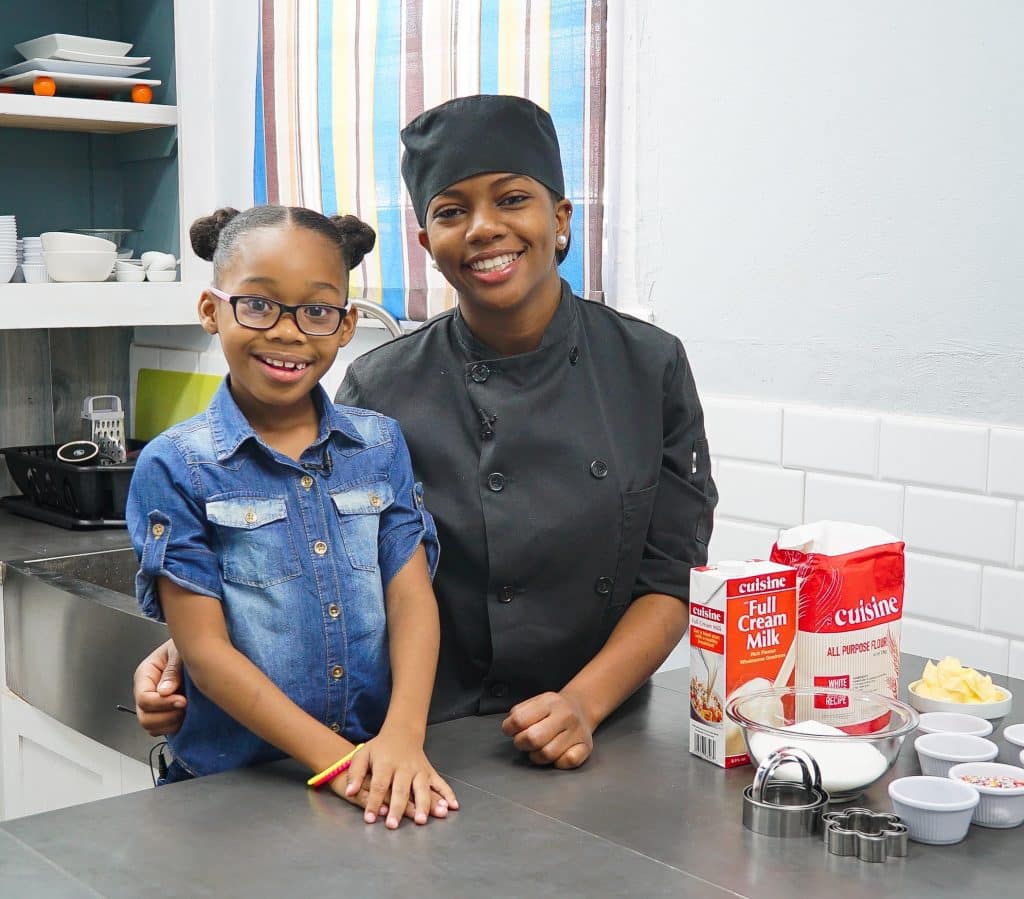 The kids are home so what a perfect way to play/work with them. I had so much fun making this with Janiyah and I am sure you will enjoy with your kids as well or even making alone! This recipe is fairly easy, inexpensive and did I mention fun!!! While making the cookies I got to learn more about Janiyah and you too can use this time to bond with your kids. Getting kids involved from young in the kitchen I think is a great foundation for them.  Decorating the cookies was probably the best part for me because I did not take it too serious we both just went with what was on our mind and had fun with it. Any shapes, sizes and colours can be made and if you do not use all the dough it can be placed into the fridge or freezer until later use. So, as we close off on the Easter season make sure and spend some time with the kids and enjoy baking. Don't forget to be ready, get loose and most of all have fun!
Ingredients 
Cookie Dough
3 ½ Cups Cuisine all purpose flour
1 tbsp Cuisine Full cream milk
1 Cup Unsalted butter
1 ½ Cups White sugar
2 Eggs
2 tsp vanilla extract
1/2 tsp baking powder
1/4 tsp salt
Royal Icing
3 Egg whites
2 tsp Lemon Juice
1 small pack Powdered sugar
1 tsp Vanilla essence
Method
Using a mixer beat the butter and sugar until light and fluffy
Add the eggs and milk together .Then add slowly until well combined Note: (Make sure all ingredients are at room temperature as it helps combine the mixture easier.)
Mix baking powder, salt, flour and combine. Add vanilla extract and combined well until soft smooth dough has formed.
Separate dough into two batches and wrap in plastic wrap. Refrigerate for about one hour or until firm enough to roll.
Preheat oven to 350 degrees F (177 degrees C) and place rack in center of oven. Line your baking sheets with parchment paper.
Remove the chilled dough and, on a lightly floured surface, roll out the dough to a thickness of about 1/2cm using a floured rolling pin. Note: (Review video on the thickness and add more flour if needed, making sure the dough does not stick to the counter.
Cut out desired shapes using a lightly floured cookie cutter and transfer cookies to baking sheet.
Place the cookies in the refrigerator for a minimum of 10-15 minutes.  Note : (This will help cookies hold their shape while baking)
Bake for 10minutes.Cookies will be done when edges start to turn brown.
Remove from oven and let cookies cool on baking sheet for a few minutes.
To make royal icing in a bowl add the powdered sugar and egg whites. Mix until just combined and then using a mixer beat the mixture until smooth. Add the lemon juice and the essence to the mixture. Note : ( Mixture should be on the thicker side if too runny add some more powdered sugar)
Separate the mixture into different bowls and use desired colours.
Decorate as you wish and most important have fun!
Enjoy!