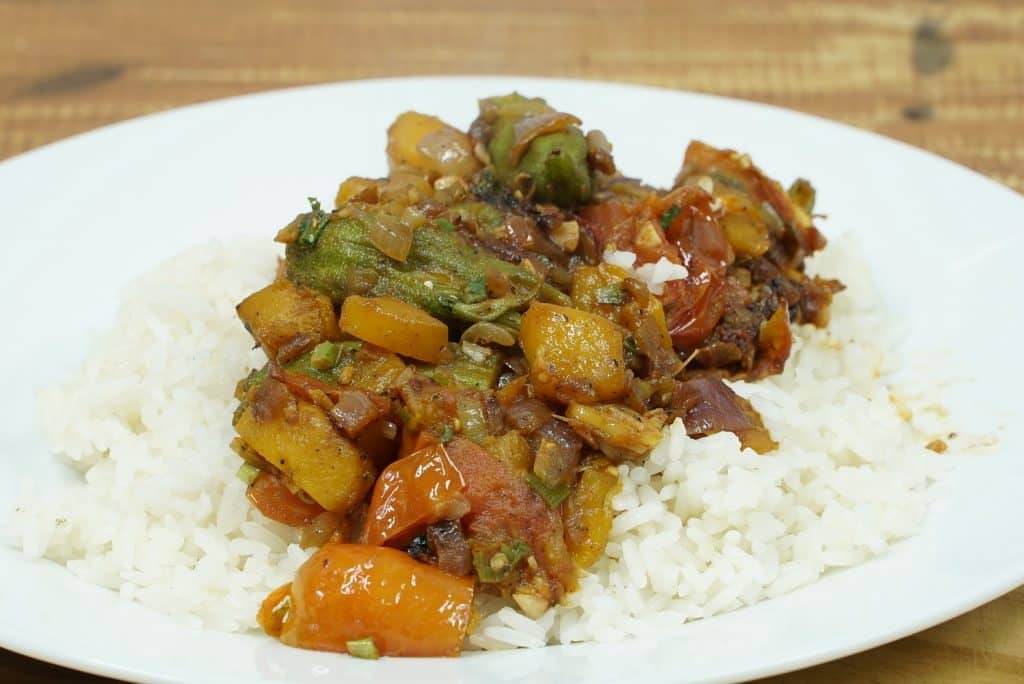 Going to keep it 100 with you, this was totally unplanned and born out of a need to clear out the odds and ends in the crisper in my fridge. We on a zero wastage campaign so nothing goes to waste. Basically I'm showing you how to take scraps and make full meals so this recipe isn't really about measurements and methodology but more about vibes. Just getting creative with what we have at our disposal.
For this "recipe" I had:
1 red onion
4 cloves of garlic
some shadow beni and chives
3 pimentos
3 tomatoes cut into quarters
an "end of" pumpkin
1 bag of ochroes
Lately I've been getting a weekly supply of ochro and baigan from my friend Gary so you can give him a call at 685 2563 if you're interested in getting a weekly supply of ochro and baigan delivered to your doorstep.
Fry the ochro in hot oil over a medium to high heat for about 5 minutes seasoning with salt and black pepper to taste. This will ensure a less slimy end product.
Remove ochro from pot
Sautee onions for 2 – 3 minute until translucent
Add garlic & pimento, sautee for 1 minute
Add pumpkin, sautee for 2 minutes
Add tomatoes, sautee for 2 minutes
Season with salt and black pepper to taste
Cover and allow to cook on low heat for 10 minutes
Add ochroes to mixture, cover and cook for another 5 minutes
Enjoy!
You can serve this with rice like I did here and have it for lunch or dinner or you can serve it with toast or sada roti for breakfast.