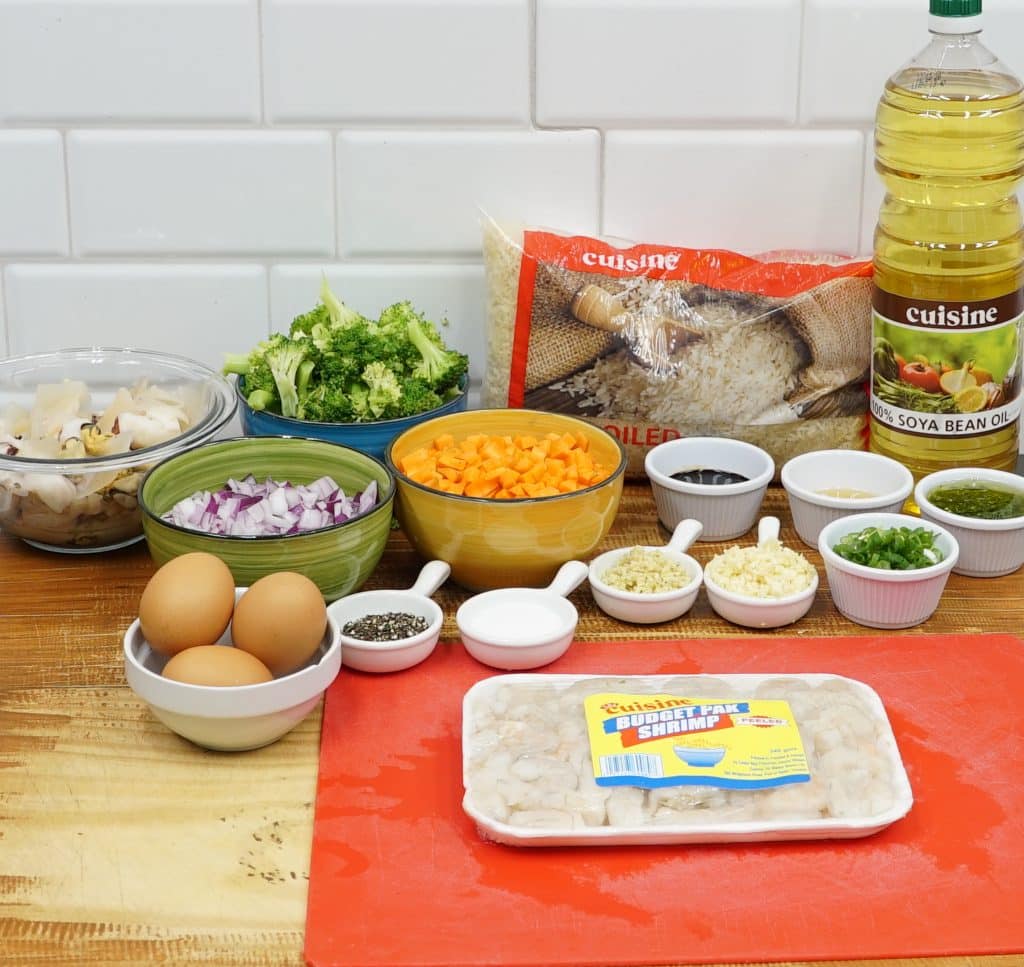 Fried rice or Fry rice is a must in my country. A good fried rice can go down (well) with almost anything. I wanted to show you how versatile this dish can be and to also get that fear of "not knowing "how to cook seafood out of your heads. Seafood is very easy to cook it simply just needs your attention. The seafood mix is a wonderful introduction if you are new to learning. The pieces are relatively smaller so they cook at a faster time than the regular sized seafood. Infusing local chadon beni with the seafood was just so delicious. Mixing both fried rice and seafood made a perfect match. I do hope you enjoy this one and don't forget to be creative and have fun while you're cooking. Until next time Bye!
Ingredients
3C Cuisine Parboil-rice
1 pack Cuisine large shrimp (Budget pack)
2 tbsp Cuisine Soya-bean Oil
6 cloves Garlic (minced)
3 tbsp Ginger (minced)
1 medium Red Onion (small diced)
1 bag mixed seafood (squid, mussels and shrimp)
2 small bundles Chadon Beni (finely chopped)
3 tbsp Olive Oil
2 medium Carrots (small diced)
2 Heads Broccoli (blanched)
2 tbsp Sesame Oil
3 tbsp Soy sauce
1 small bundle Chive (finely chopped)
3 Eggs
Salt- To taste
Black pepper – To taste
Method
Boil rice for 12-15 minutes. Note (Rice should not be soggy/overcooked. Make sure the rice has had enough time to cool. Colder rice makes for a better fried rice)
Clean shrimp by cutting a slit along the shrimp's back and take out the black vein along the centre of the back. Wash in cold water and set aside.
In a bowl add the chopped chadon beni and mix well with olive oil. Set aside.
Heat oil in a wok or pan and sauté garlic, ginger and onion. Add mixed seafood and shrimp. Next include salt, black pepper and chadon beni oil. Mix well and keep on medium to high heat. Note (A lot of water will spring. It is natural, allow water to evaporate. If after 5 minutes there is still an extra amount of water simply just take out some.
Crack 3 eggs and whisky vigorously. Separate a portion inside the pan and cook the eggs. Note (See video for technique.)
Add carrots, broccoli and rice. Mix well.
Infuse with sesame oil, soya sauce and chive. Toss making sure all the rice is fully coated and brown in colour.
Serve hot and enjoy!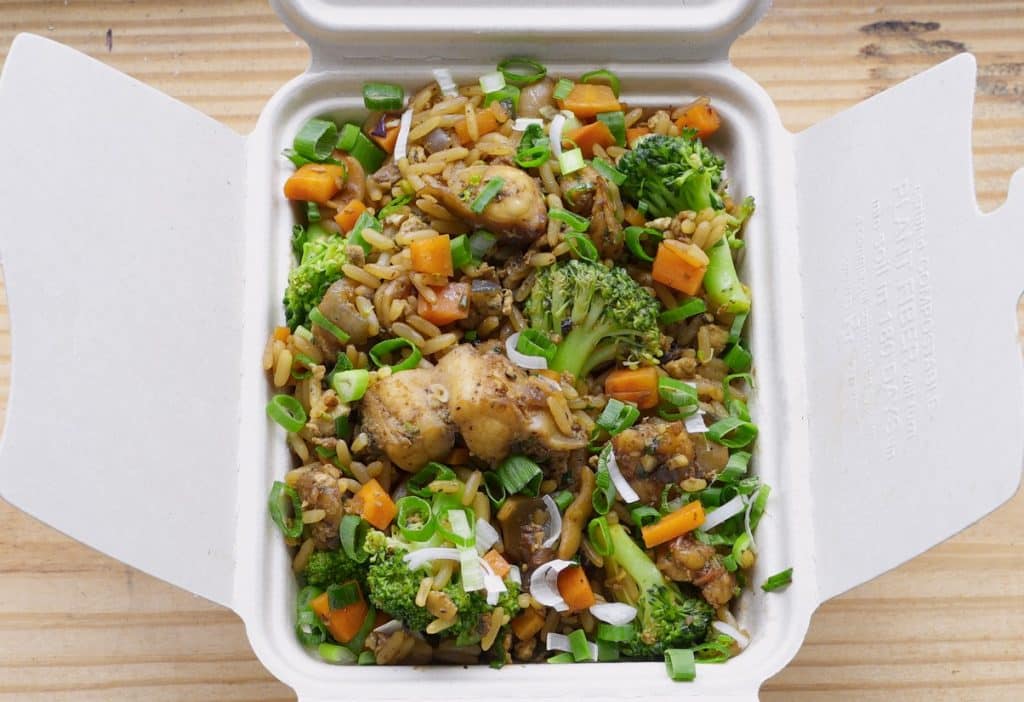 Product Facts:
World Centric compostable plant fiber containers are:
microwave and freezer safe, can be used for both hot and cold items
soak proof
have no plastic or wax lining
handle hot liquids up to 220 Fahrenheit
Sterilized and sanitized, conforms to US Food & Drug Administration guidelines
fully compostable, sturdy and strong
meet ASTM D-6400 standard for compostability
Est. Home Composting Time: 2-4 Months
Est. Commercial Composting Time: 1-3 Months Our products meet FDA standards for food contact and are Gluten-Free. They are made from the wheat stalks and not from the food grain which stores the proteins and allergens.
Available locally from Guy And Gordon Limited.