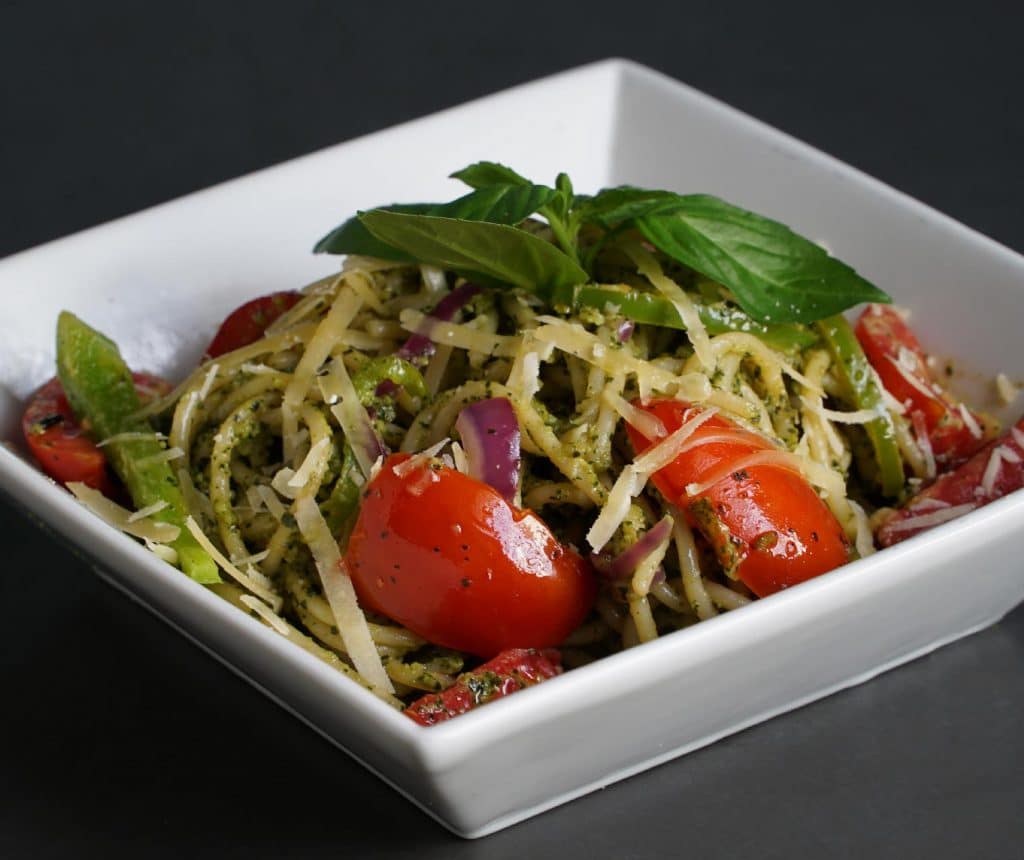 Fresh basil and pasta can mean only one thing! Extraordinary! I love using fresh basil to make pesto. Pesto is simply another classic sauce Italians use on their pasta. Traditionally it's made with fresh basil, olive oil, pine-nuts, garlic and fresh parmesan but in today's world a lot of variations have been created. The basil can be substituted for many green leaves such as Arugula and Spinach. A lot of recipes do not use nuts again because of the raise in nut allergies but I love the addition of nuts as it adds texture to the dish. Even the kind of cheese has changed. A hard-aged cheese is always used but aged cheddar and aged swiss is now used to substitute the parmesan as these can be more affordable at times. This pesto is super rich and tasty. A little really does go a long way enabling you to save more for another time. I sometimes use pesto on bread or even to roast vegetables, I hope when you try this you too will become a pesto fan. Enjoy!
Ingredients
1 pack Cuisine Spaghetti
3 bundles fresh Basil
1/3 C Cuisine White roasted peanuts
6 Garlic cloves
½ C Parmesan Cheese
½ C Olive Oil
1 Sweet pepper
1 Red Onion
1 Tbsp Cuisine Soya-Bean oil
3 Tomatoes
Salt –To taste
Black pepper- To taste
Method
In a pot of rolling water add salt, pasta and allow to cook until al dente. Note: (Meaning firm to the bite not too soft.)
In a food-processor add the peanuts, basil, garlic, parmesan cheese and olive oil. Pulse on a high, scrap down the sides and then pulse again until everything has been fully combined. Add salt and black pepper to taste. Note: (Making pesto without the cheese or nuts is perfectly fine. This would change the texture of the dish but just add more basil and taste as you go.)
Cut the red onion and sweet pepper into slices. Cut the tomatoes into wedges.
Place a pan on medium heat, add oil and sauté the vegetables. Note: (Sauté for 2 minutes do not overcook. The freshness of the vegetables gives the dish an extra taste.
Add the pesto and coat the pasta. Note: (This pesto is thick and rich so a little goes a long way. Package the rest and place into the fridge or freeze until later use.
Plate and enjoy with some fresh grated parmesan.