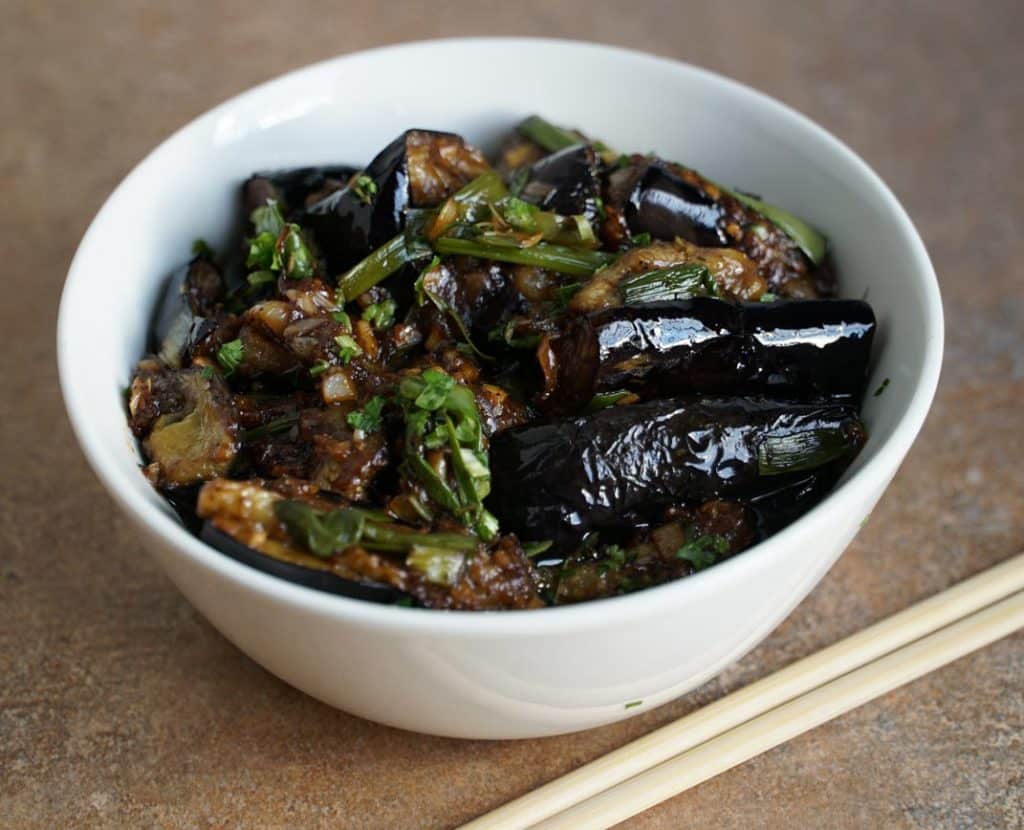 I love Sichuan Eggplant and I order it anytime I see it offered at a Chinese restaurant. I would make it at home if Sichuan peppers were something that were easily sourced here in T&T. They're not impossible to get but they are pretty hard to come by. I think the supermarket on South Quay in Port Of Spain has it, I'll go check and get back to you all on its availability there. So no Sichuan peppers, but that's not going to stop me from making a similar recipe and nor should it stop you. If you're like me and love eggplant/baigan then you're always looking for new ways to prepare it. This is one such way, its simple enough and utilizes a lot of ingredients that you would already have in your crisper and pantry.
For this recipe you will need:
2 medium sized eggplants
6 cloves of garlic (minced)
2 cloves of garlic (whole)
2 tbsp minced ginger
1 scotch bonnet pepper thinly sliced (optional* seeds and membrane removed)
1 bundle of chives
2 tbsp sesame oil
1 tbsp soy sauce
1 tbsp red wine vinegar or rice wine vinegar
1 tsp salt
1 tsp black pepper
1 tbsp sugar
1 tbsp cornstarch
Method:
Cut eggplant length-way in half then into quarters, then into 2 inch pieces.
Thinly slice stalks of chives & cut leaves into 1 1/2 pieces
Heat vegetable oil in a large frying pan or wok
Add 2 whole cloves of garlic to hot oil to infuse garlic flavor into the oil
Fry eggplant pieces for 2 minutes or until golden brown
Drain fried eggplant on paper towels
Dissolve cornstarch into 1/3 cup of water and set aside
Heat Sesame Oil in wok or frying pan
Add chopped stems of chives, scotch bonnet pepper, minced ginger, minced garlic and eggplant pieces and saute for 2 minutes
Add red wine vinegar, soy sauce, salt, black pepper and sugar then saute for two minutes
Add chives
Add cornstarch mixture
Saute for 1 minute
You can serve this up with some noodles or rice. It goes great with stir fried beef as well. Enjoy!