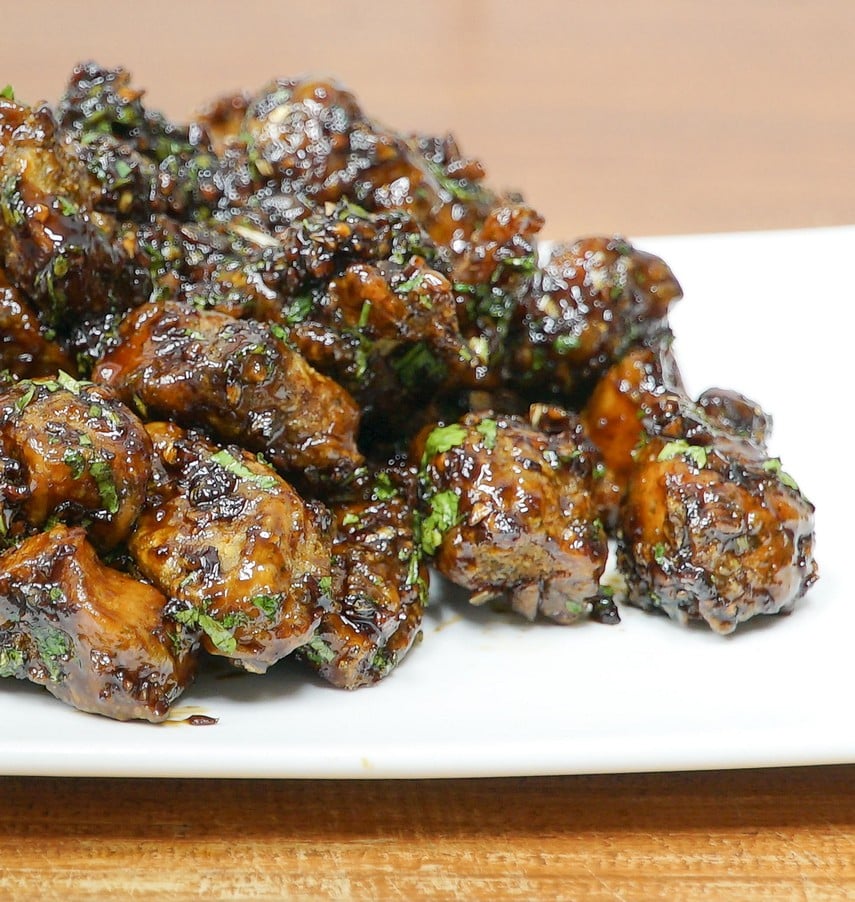 This is some next level cutters, a Korean styled fried chicken with well known trini flavors. This was my first time making this dish and I didn't hesitate to go brave and experiment rather than stick to the traditional recipe. Now flavor-wise everything was on point but the finished product in terms of aesthetics wasn't exactly what I hoped for. I was aiming for a deep reddish color by using the roucou and soy sauce but clearly the ratio was off because the dark color of the soy sauce overpowered the roucou. So next time I try it I'll swap measurements or I might even omit the soy sauce totally. To season the chicken I used some Shadon Beni salt that I made myself and I might post a video soon on how you can make that. Its really simple get about 10 bundles of Shadon Beni, cut off the stalks and dehydrate them. You don't need a dehydrator to do this, you can use your oven at about 180 degrees for 2-4 hours then grind it in a food processor and mix with some coarse sea salt. That crispy finish that Korean styled fried chicken is known for comes from the use of cornstarch and double frying so you know we have that double fried action going on. All in all this is a great recipe to try out, perfect for a house lime with friends and family or for a stay-at-home date night vibe. You're sure to score some points with this one.
Ingredients
1 cup of cornstarch
8 cloves of garlic finely chopped or minced
1 tablespoon of scotch bonnet pepper with the seeds and membrane removed
1 tablespoon of roucou
1 tablespoon of rice vinegar
1 tablespoon of honey
2 tablespoons of soy sauce
1 tablespoon of brown sugar
1 tablespoon of black pepper
3 tablespoons of shadon beni salt (can be replaced with all-purpose seasoning)
***UPDATE***
So I tried the recipe again with a few tweaks and it came out perfect! Swap out these ingredient measurements:
3 tbsp Roucou
1 tsp Soy Sauce
2 tbsp Honey
Method
Add chicken to a bowl with Shadon Beni salt & black pepper, mix thoroughly. You can let this marinate for an hour or so but it really isn't necessary.
Add your cornstarch to a bowl and coat each piece of chicken.
Fry the batch of chicken a few pieces at a time so that the temperature of the oil doesn't drop. Fry for 2-3 minutes.
Add all the fried pieces back into the oil and fry until golden brown.
Add a teaspoon of oil to a pan and saute your garlic on medium heat for 1 minute
Add scotch bonnet pepper continue cooking for 1 minute
Add Soy Sauce, Roucou, Rice Wine Vinegar, Honey &  Brown Sugar, cook for 2 minutes.
Toss your fried chicken in your sauce making sure each piece is coated evenly.
Finish off with some fresh herbs. I used parsley here but you could go ahead and use fine thyme, chives or shadon beni.
Enjoy!