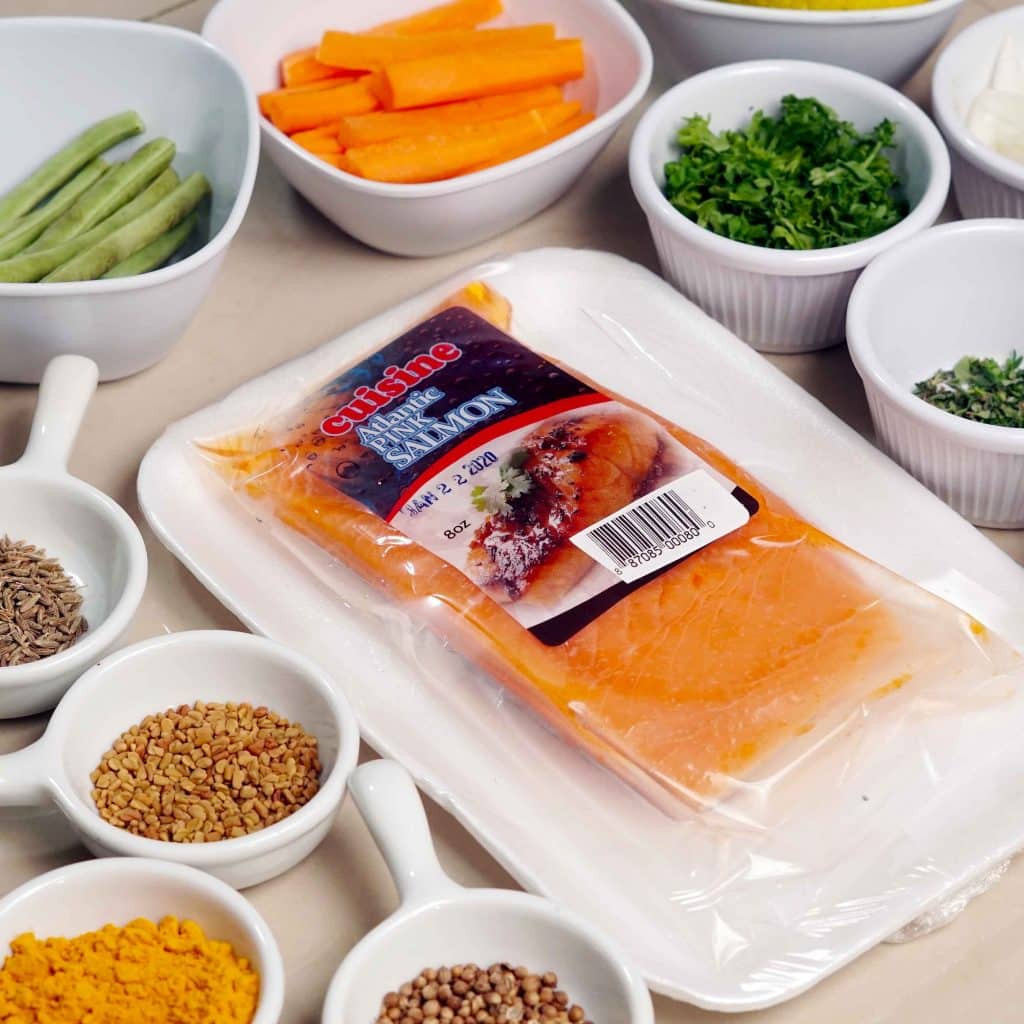 Yield: 1, 8oz piece of salmon
Ingredients:
Salmon
One 8oz portion of Cuisine Pink Atlantic Salmon, thawed
1 tsp of fenugreek/methi seeds
1 tsp of geera seeds/cumin
1 tsp of coriander seeds
3 tsp of ground tumeric
1 tsp of chopped fresh parsley
1tsp of chopped fresh chive
1 tsp of fresh thyme leaves
3 tbsp of olive oil
½ carrot, julienned
4 strings of bodi, cut into 4 inches in length
½ small onion, sliced into rings
1 slice of lemon
Salt and Black Pepper, to taste
Coconut Rice
2 cups of Cuisine Parboiled rice
4 cups of water
2 bay leaves
1 cup of coconut milk
3 tbsp of toasted shredded coconut
Salt and black pepper, to taste
Salmon Method:
Preheat oven to 400ºF.
Place fenugreek, geera and coriander seeds into a shallow frying pan over a medium heat. Allow the seeds to toast until you begin to hear gentle popping sounds and the seeds are fragrant.
Using a mortar and pestle or an electric spice grinder, grind the seeds into a fine powder. Transfer the powder to a small bowl and mix with turmeric.
Add the parsley, chive, thyme and olive oil to the spice mix and stir to combine. Season with salt and black pepper.
Cut a large foil square and grease the middle of the foil with olive oil.
Place the salmon into the middle of the foil square, skin side down.
Pour the spice rub onto the salmon and place the carrots, bodi and onions around and on top of the salmon. Finally, place the lemon slice on top of the salmon and vegetables.
Gently wrap the salmon in the foil, creating an airtight package.
Place the package onto a baking sheet and bake in the preheated oven for 15 minutes.
Once removed from oven, allow to sit for five minutes before opening and serving. Enjoy! #teamnomoredustysalmon
Coconut Rice Method:
Rinse rice and place it into a medium pot with bay leaves.
Add water and cover with foil. Place the lid over the foil and allow to cook on medium heat for 20 minutes.
After 20 minutes, remove from heat and add coconut milk, salt and black pepper.
Allow to cook for another 5 minutes, or until all the coconut milk is absorbed.
Add shredded coconut and fluff with a fork.