Black cake!!! Where do I start! I always knew what time of the year it was simply because I will see a huge jar of fruits soaking at my grandmother house. I knew Christmas time was soon approaching!!! I love all the features in this cake. Firstly this recipe is very simple and has easy steps. Secondly I am a lover of fruits so this is rite up my alley. The dark rum and cheery brandy really does a wonderful thing for this cake. When a Trini "Parangs" around this time of the year this is surly one of the many things offered to you. It is a staple for a "GOOD TRINI CHRISTMAS" I am so happy to bring you this recipe I hope you enjoy it .Happy baking and seasons greetings.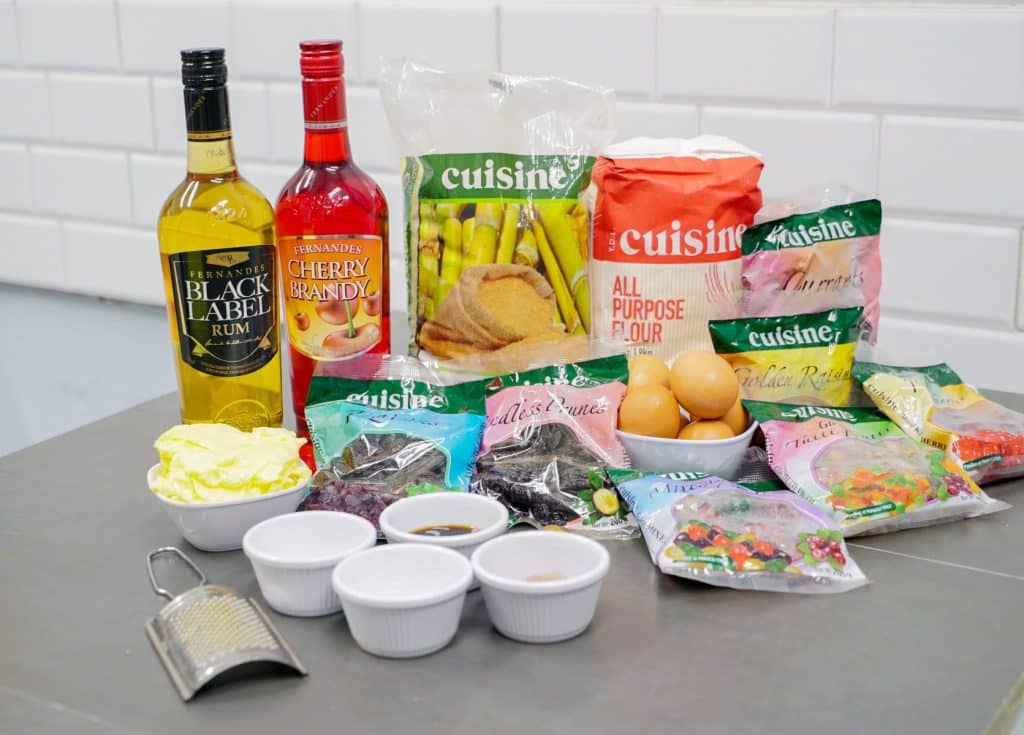 [themify_col grid="3-1 first"]
Fruit mix
1 cup Cuisine Mixed Peel
1 cup Cuisine Pitted Prunes
1 cup Cuisine Raisins
1 cup Cuisine Currants
1 cup Cuisine Mixed Cherries
½ Bottle Fernandez Cherry Brandy
½ Bottle Fernandez Black Label Rum
[/themify_col] [themify_col grid="3-1″]
Cake mix
1 cup Unsalted butter
1 cup Cuisine brown sugar
4 Eggs
1 tbsp Lemon essence
1 tbsp Almond essence
1 tbsp Vanilla essence
3 ½ cups Cuisine all-purpose flour
1 tsp Salt
1 tsp Cinnamon
1 tsp Baking powder
1/2 tsp Grated nutmeg
2 tsp Angostura aromatic bitters
[/themify_col][themify_col grid="3-1″]
Browning
3 cups Cuisine brown sugar
1/2 cups Boiling hot water
[/themify_col]
Method
Preheat the oven to 240 degrees. Grease and flour 9" pan
Cut all the fruits and place in a large bowl. Pour cherry brandy and rum and set aside so that it can soak up the alcohol. Note: (Any dried fruits or preserved fruits can be used here. The alcohol amount can increase or decrease according to your alcohol intolerance. Soak for a minimum of one day if you are in a rush!)
Place a pot to heat on medium then add the sugar and leave until it has caramelized. Add hot water gradually. Let this mixture cool. Note : ( please see video for colour and consistency also browning from the grocery can be use )
Cream butter and sugar until light and fluffy. Then add eggs one at a time. Followed by another three minutes mixing.
Sift all dry ingredients, mix well and set aside.
In a blender puree all the fruits until chunky and set aside
To the creamed mixture add 1/3 of all the dry ingredients, browning, bitters and the essence. Continue this step until all the ingredients have been used and well combined.
Pour mixture into pan and bake for 3 hours at 240 degrees.
After its finished baking soak the cake with equal parts rum and cheery brandy. Note: (add as much rum or as littler rum as you would like. The more rum the denser the cake will be)
Serve and enjoy.