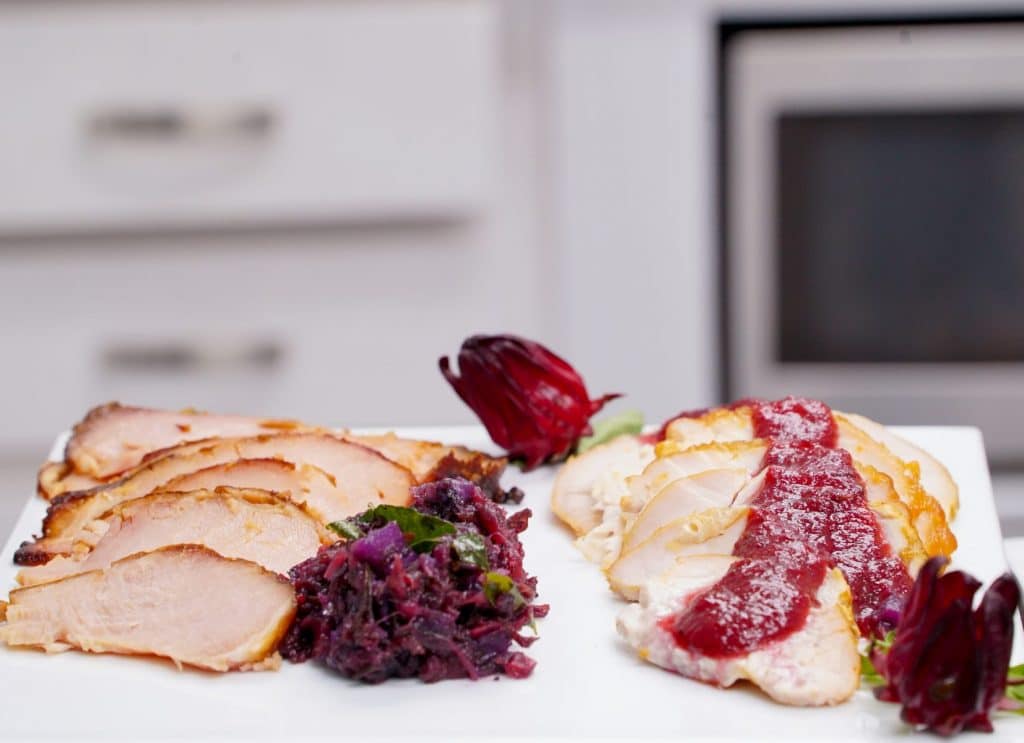 One of my favourite drinks for the season is definitely SORREL! When I parang I always make it my agenda to have some. Sorrel is so versatile you can make drinks, sauces and even jams. In Trinidad it grows only around Christmas time. We take the florets and boil them using lovely spices like ginger, clove and cinnamon to make a wonderful drink. I used some of the drink to make an amazing cocktail and I took the florets and used them to make some tasty condiments for your ham or turkey. I hope you make these items and continue to experiment with sorrel. Seasons Greetings.
Sorrel Rosemary Reduction
2 cups Boiled Sorrel Flowers
¼ cup Boiled Sorrel Liquid
2 tbsp Fresh Rosemary
1 tbsp Butter
1/4 cup Cuisine Brown Sugar
2 Bay Leaves
 Method
Place a small pot on medium heat and add the rosemary allowing it to cook for 1-2 minutes to bring out the flavors.
Add the boiled sorrel and mix well. Then include the sugar and boiled sorrel liquid. Allow the mixture to reduce by half its liquid content keeping the temperature on a low.
Place the bay leaves into the pot, stir and let the mixture continue reducing.
Using a blender merge everything together. Serve hot and enjoy with ham, turkey or any of your favourite Christmas dishes. Enjoy
Sorrel Pineapple Chutney
2 cups Boiled Sorrel Flowers
1/4 cup Boiled Sorrel Liquid
1 tin Cuisine Pineapple Slices
3-4 Curry Leaves
1 tbsp Coriander Seeds
2 tbsp Geera (Cumin) Seeds
1 tbsp Black Till
2 tsp Cuisine Brown Sugar
2 tbsp Fernandez Cherry Brandy
 Method
Place a pan on medium heat and add all the spices. While on the heat keep tossing the pan allowing all the natural oils to be released from the spices.
Using a mortar and pestle crush all the spices into fine pieces. Add the garlic and continue to crush everything together until a paste has been formed. Note: ( Please see video on texture of the paste)
Heat a pan with olive oil and add the paste mixture. Include the curry leaves and boiled sorrel. Stir well, add the brown sugar and reduce the heat. Note: (More sugar can be added. As you taste you can add more or less sugar)
Cut your pineapple into small pieces. Note: (The pineapple can be cut into any size it all depends on you)
Add the cherry brandy and simmer for 1-2 minutes.
Serve hot and enjoy with ham, turkey or any meat this season. Enjoy!

Sorrel Swizzle
2oz Angostura 5yr Rum
1oz Sorrel Juice
1oz Fresh Lime juice
2 dashes Angostura Orange bitters.
Method
To a stemmed pilsner add the sorrel, lime juice, bitters and rum.
Using a cloth crush ice and add to the glass
Swizzle the drink but placing your both hands together going in an up and down motion while pushing and pulling. Note: (Please see video on technique)
Garnish to your liking. Serve and enjoy!