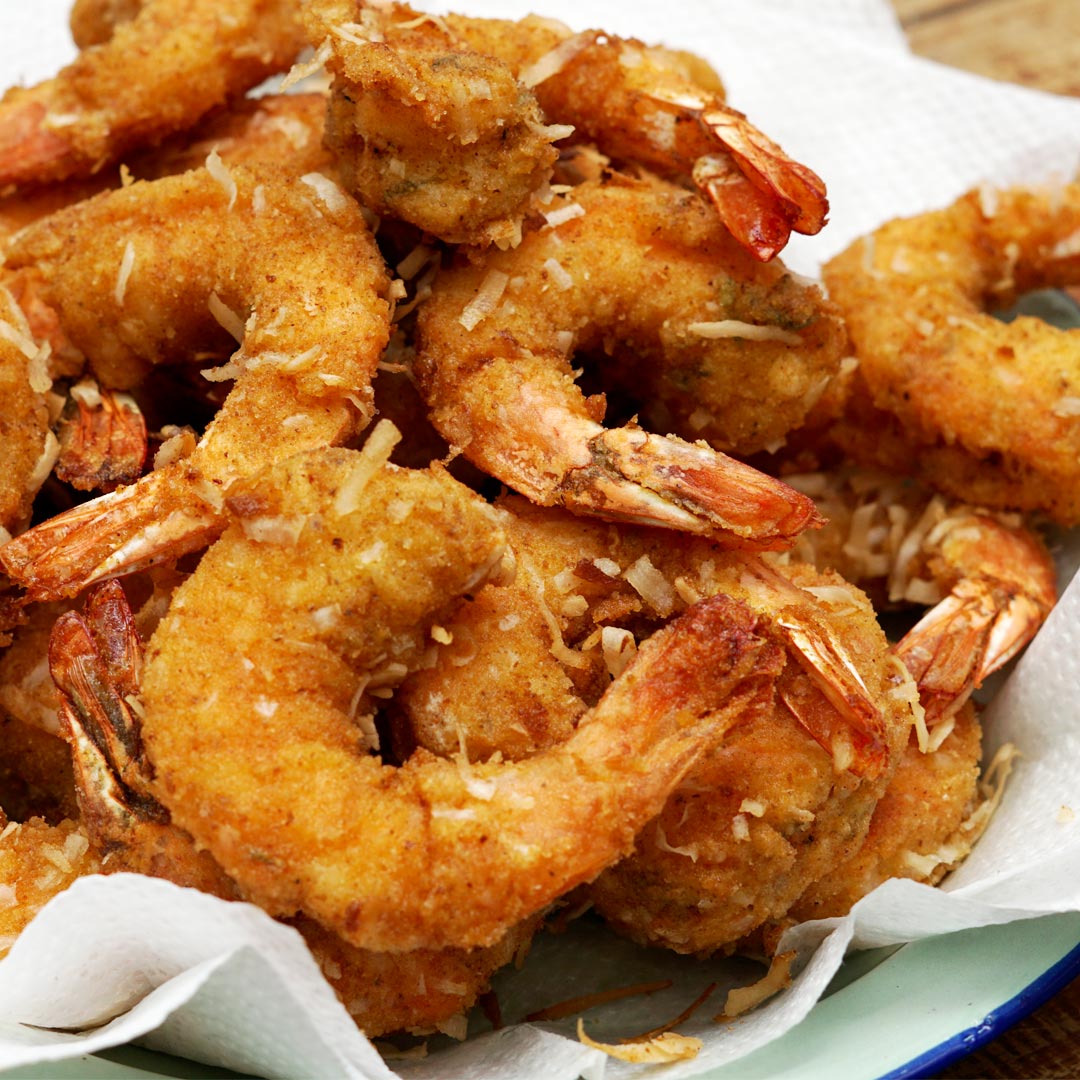 Yield: 4 Portions
Ingredients Needed
• 1 ½ Lbs of Jumbo Shrimp, shelled & deveined (tails on)
• 1 Tsp Salt
• ¾ Tsp Black Pepper
• ½ Tsp Smoked Paprika
• 1 Tsp Fresh Thyme leaves
• 1 Cup Flour
• 3 Egg whites
• ¼ Cup Milk
• 1 Cup Panko Breadcrumbs
• ½ Cup Desiccated Coconut Flakes
• 3 Cups of Vegetable Oil
Spicy Chive Aioli
• ¾ Cup Mayonnaise
• ¼ Cup Chopped Chives
• ½ Tsp Salt
• ½ Tsp Black Pepper
• 2 Tbsp of Fresh Lemon Juice
• 1 Tsp of Pepper Sauce
• 3 Tbsp Water
Method
• Place clean and washed shrimp into a medium mixing bowl. Ensure shrimp is drained and excess water is strained out.
• Season with salt, pepper, paprika and thyme leaves. Use hands to season & rub spices all over the shrimp and set aside to marinate for 15 minutes.
• Meanwhile prepare the breading sequence for the shrimp. Place flour into a medium bowl. Secondly, place egg whites and milk into another bowl, whisk and set aside. Lastly mix the breadcrumbs and coconut flakes in a third bowl and also put aside.
• Pour oil into a medium frying pan or wok and place on medium to high heat until oil registers to a temperature of 325 degrees Fahrenheit.
• Hold shrimp by the tail and dust lightly into the flour to coat then dip into the egg white-milk mixture and finally into the breadcrumb-coconut flakes to evenly coat.
• Place shrimp into the hot oil and cook for 2 minutes until golden brown and crusty on the exterior.
• Continue by frying all the shrimps and draining on paper napkins to rest.
• To make the aioli, simply pour all the ingredients into a blender and pulverize for 30 seconds until well combined.
• Plate out the shrimp onto a platter and pour spicy chive aioli into a small bowl for dipping and serve.