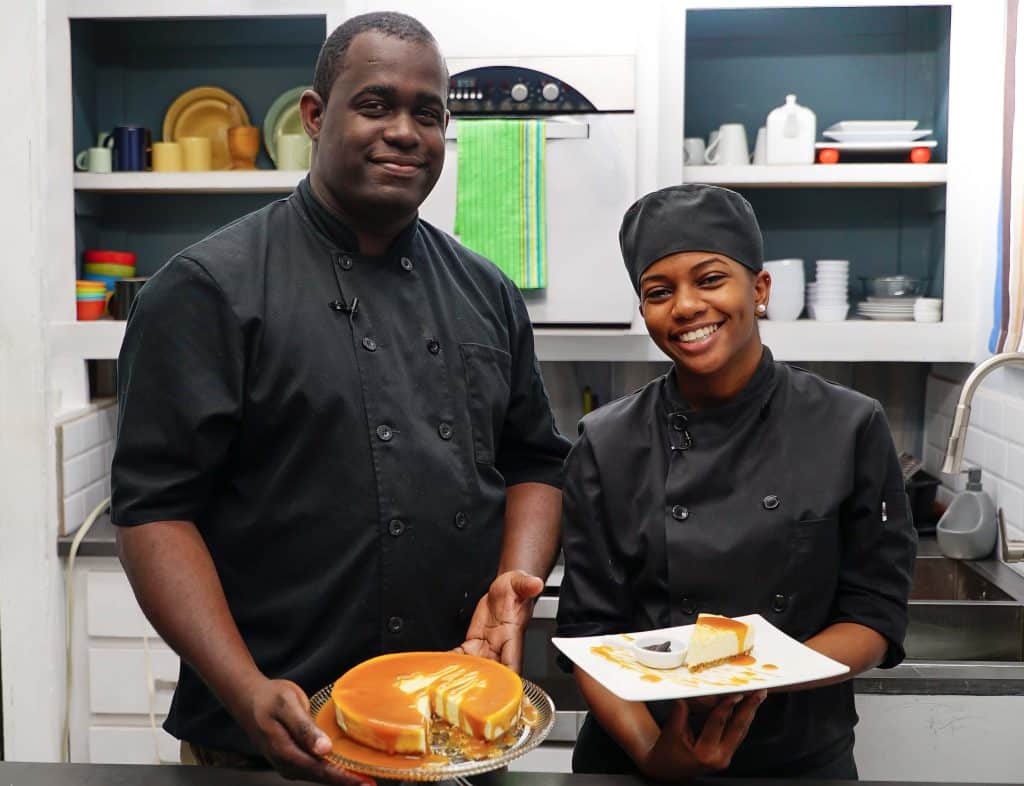 I heard of this bean only about two years ago. Never did I know it possessed such a powerful flavour. It's unique and very concentrated. The tanko bean stems from a flowering tree from the pea family and is a dark brown, flat wrinkled bean from Central and South America. It's flavours are said to mimic vanilla .The strong fragrance comes from a high content of coumarin! Coumarin is a chemical compound that is high in fragrance. When taken in large amounts the bean can be dangerous so a little goes a long way! Infused with desserts it creates this perfect match. I have tried it in ice cream and it's just as wonderful. The creamy cheesecake with the unique flavour from the tonka is surely a hit !!! Topping it with the rum infused caramel sauce just heavenly !!! I love caramel and the rum elevated the sauce so perfectly !
I enjoyed every part of this recipe and hope you will too! Enjoy !
Ingredients
Cheesecake
1 1/2 pound cream cheese
4  Eggs
1/2 lb Granulated sugar
2oz Heavy cream
2oz Full cream milk
1 Tanko bean
3 oz Corn starch
Crust
1 1/2 Cup Digestive biscuits
3 tbsp Granulated sugar
2 tbsp Butter
Caramel sauce
1 Cup Granulated sugar
2 tbsp Butter
2oz Premium dark rum
1/2 Cup Heavy cream
Method
Preheat the oven at 350degrees.
On medium heat place a sauce pan with the heavy cream and full cream milk. Grate the tonka bean place into the milk mixture and allow to steep just until  it comes to a boil. Stir well. Turn it off and allow to cool down for 10-15 minutes
To make the crust melt butter and crush biscuits until crumbs have formed. In a bowl combine the sugar,biscuits crumbs and butter. Place in a baking dish and press the mixture making sure it as an even level. Bake the crust for about 10-12 minutes and allow to cool down.  Note : ( Any baking dish can be used here we used a 9″ baking pan and the crumbs can be substituted for any of your favourite cookie to make it your own!)
In a deep bowl soften the cream cheese and then add the sugar and cornstarch. Mix well making sure everything is welled combined.
Add the eggs one by one until it's fully incorporated.
Add the cream cheese mixture to the crust. Note : ( Mixture should be thick and creamy)
Using  any baking pan or an oven safe dish big enough to hold the cheesecake pan. Place the cheesecake into the baking pan and fill the pan to 1 inch high with hot water.
Bake the cheesecake for an hour. Note: ( Cheesecake will be done when the sides have puffed up and firm to touch but still holds a jiggle in the centre. )
When the cheesecake is done take it out of the water bath, allow to rest until cooled and then into the fridge until firm.
Make Caramel sauce by placing a pot on medium heat and add the sugar. Let the sugar dissolve and caramelize. Note : ( Ever so often give a little mix just in case some of the sugar is not dissolving as quickly as the rest. Also pay close attention! At first it isn't going to look like much is happening but stick with it!) Then add the butter and mix well. Next place the rum and let it cook for  2 minutes. Lastly incorporate the heavy cream and mix well. Let the mixture cook for another 2-3 minutes and take off the heat.  Note : ( Be careful when adding any of the ingredients as the mixture tends to bubble and the sugar is very dangerous when hot)
Serve cheesecake with the caramel sauce and enjoy !