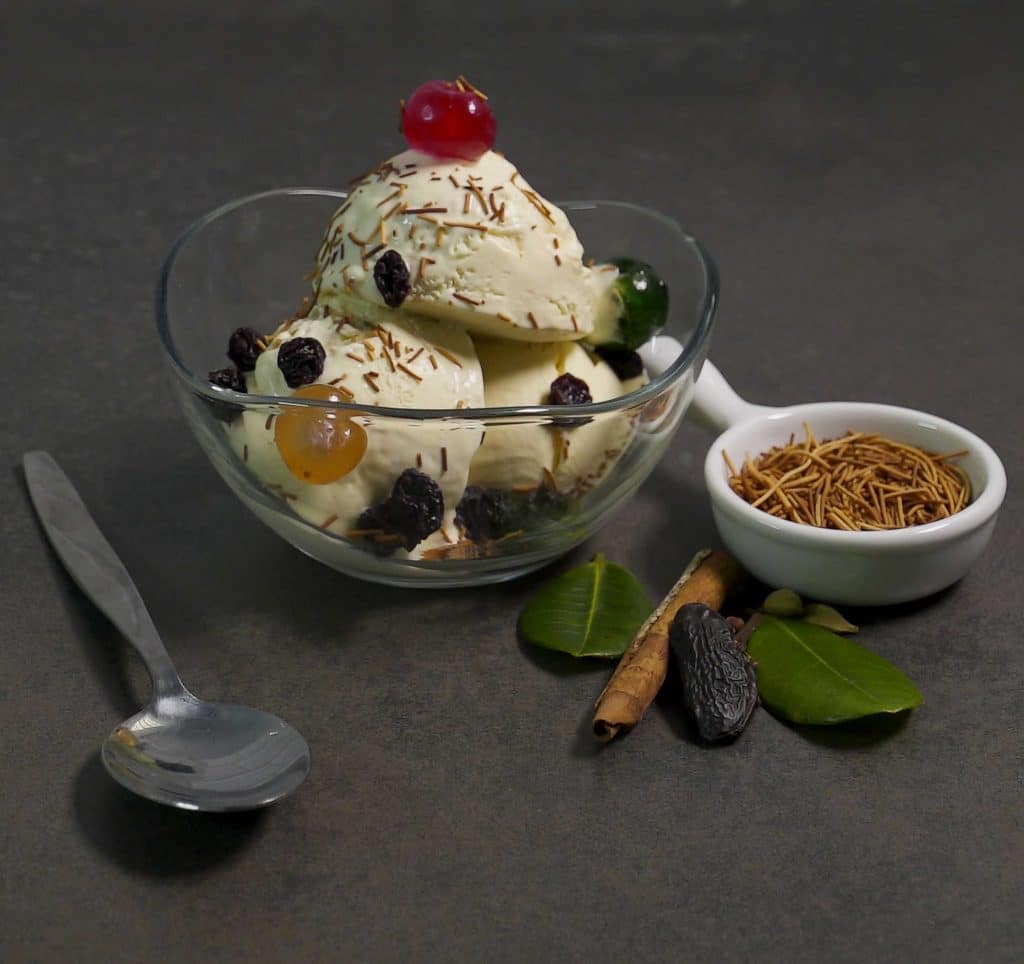 Whether it's called Sawine, Saywine, Sahwine or even Suhwine many can attest that its one of the favored desserts for Eid. This is one of the many dishes Muslims across the world eat to celebrate the end of Ramadan. It reminds me of porridge because its rich, creamy and packed with spices. Vermicelli is one of the key ingredients to this dish. It is a thin pasta that we use to parch or like we say in Trinidad "Patch". The mixture of the toasted Vermicelli and spiced milk creates this wonderful aroma and taste like no other. I wanted to in cooperate this delightful mix into another desert and of course I ran towards ice cream. This sawine ice cream is in its own league. The Sawine and ice cream mix complements each other so well, Simply irresistible. Enjoy with your favourite topping and it's a sure crowd pleaser. Hope you enjoy and Eid Mubarak to you and your family.
Ingredients
Sawine
2 Cinnamon sticks
5 Cloves
2 Bayleaf leaves
5 Cardamom pods
2 tsp Nutmeg
2 tsp Tonka bean
3C Cuisine Full cream milk
A pinch salt
½ C Sliced Almonds
½ C Cuisine Mixed Cherries
1/2C Cuisine Raisins
1Can Cuisine Sweetened condensed milk
2 C Vermicelli
Sawine Ice Cream
2C Whipping cream
1 Tsp Vanilla essence
1 can Cuisine Sweetened condensed milk
1/2 C Swaine liquid
Method
Sawine
In deep pot add milk and spices. Stir well and bring to a boil.
Break up the vermicelli into small pieces.Place a pan on medium heat and include the vermicelli. Allow to parch for 5-8 minutes until dark brown making sure to toss every minute. Note: (It is very important to keep tossing as we want all the pieces to be evenly toasted.)
Add the toasted vermicelli to the boiling spiced milk and stir well. Include salt, condensed milk and let the mixture cook for 15 minutes. Note: (Add this stage I tasted the mixture and I added the entire can of condensed milk. I also added an additional cup of milk. So in total 1 can of condensed milk and 3 cups of milk. )
Toast sliced almonds and add to the mixture. Include some mixed cherries, stir and enjoy hot or cold! Note: (Feel free to add any additions such as currents, prunes etc.)
Sawine Ice Cream
Strain some of the Sawine mixture to get ½ Cup of the liquid.
Place condensed milk, whipping cream and Sawine mixture in the fridge to keep cold. Note: (Everything needs to keep very cold.)
Using a stand mixer or hand mixer whip the whipping cream on medium until you have stiff peaks (Note: Stiff peaks meaning when you lift up the mixture the peak stays firm and stiff it does not fall down. )
Add the condensed milk into a separate bowl and fold in the Sawine mixture. Add this mixture into the whipped cream. On high whisk until the mixture is thick and fluffy. Add vanilla and whip until in cooperated.
Place in an air tight container and freeze at least 4-6 hours.
Serve with your favourite toppings.