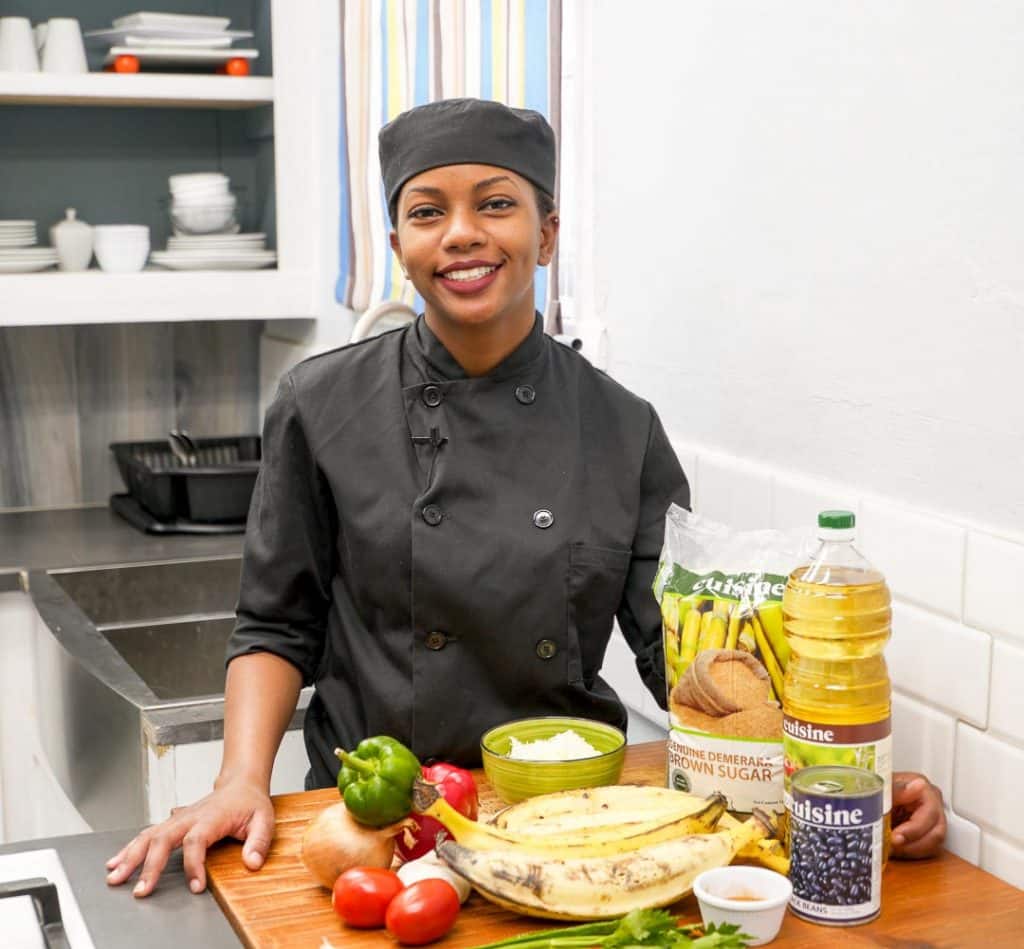 Plantain plantain plantain !!! I have not met anyone who doesn't love to eat plantains. Here in Trinidad we eat it as a main dish , side dish, anytime and anywhere. We just love it . I decided to make plantain two ways. One is fried and the other is baked. The first one is stuffed with a delicious black bean stuffing. It's a great alternative for vegetarians! The next option is my all time favourite way to enjoy plantain. Growing up my Aunty Jenny would fry some up for my siblings and I and we would grab them all up. It was so delightful ! Cinnamon and sugar has always been a great combination but when fried the sugar creates this crunchy exterior and the plantain is so soft and tender it's a perfect match. Trust me when you try this it too will become your new favourite way to have plantains. Enjoy !!
Ingredients
4 Plantains
2 tbsp Olive Oil
1/2 Red sweet pepper
1/2 Green Sweet pepper
1/2 Onion
1 medium Tomato
3 Cloves Garlic
1 Chive leaf
1 Chadon Beni leaf
1 Celery stalk
1 Can Cuisine Black Beans
Salt – to taste
Black pepper – to taste
2 Cups Shredded Mozzarella cheese
1 Cup Cuisine brown sugar
1 tbsp Cinnamon
3 Cups Cuisine vegetable oil
Method
Preheat the oven to 350 degrees and coat a baking tray with cooking oil.
Peel the plantain and  slit a shallow line down the long seam of the plantain.Note ( See video on this method )
Place plantains on the tray and bake for 30-45 minutes until golden brown and tender
Cut all the vegetables into small dice and strain the black beans.
Place a pan on medium heat and add the oil.
Add the onions,garlic and allow to cook for 2 minutes. Next add the remaining vegetables and black beans.
Cook for another 5 minutes and add salt and black pepper to taste.Take off the heat.
Stuff the plantain with the black bean mixture and sprinkle the mozzarella cheese on top. Place in the oven for 5 minutes. Then remove and place to cool.
To make the cinnamon sugar plantain mix the sugar and cinnamon in a bowl until well combined.
Heat the oil in a deep pot on medium heat.
Cut the plantains at a 35 degree angle. Note ( see video on this technique)
Coat the plantain in the sugar mixture.
Place the plantains into the oil until golden brown. Note ( make sure to not crowd the pot to ensure everything is cooked evenly)
Serve warm and enjoy !