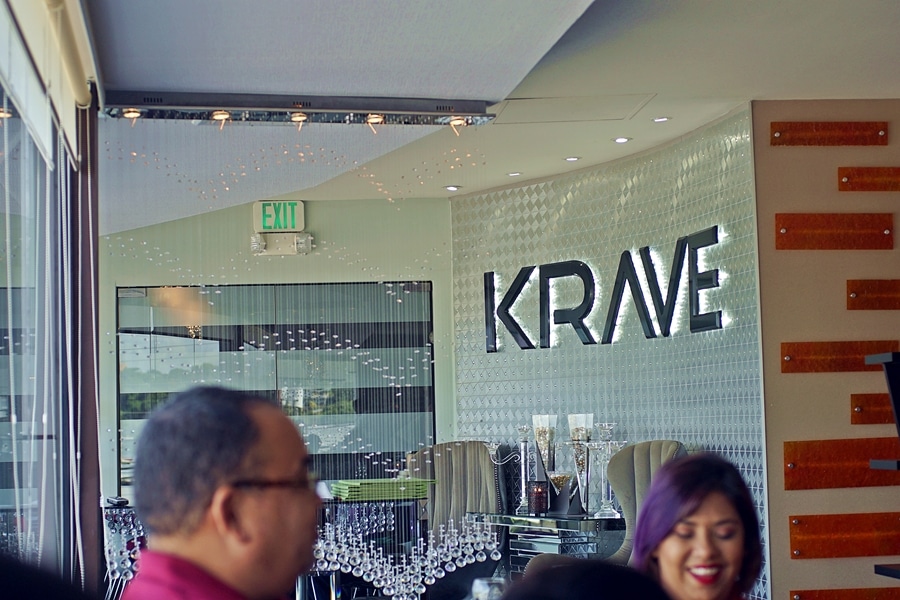 We are glad to confirm that KRAVE is still a great reason to take a ride on the South side. In a landscape known for products that start off nicely then quickly boil down to "meh", constant improvement is refreshing to see. So we were genuinely excited by the invitation to check out their new MODERN CHIC BREAKFAST with the one and only David Wears from Cuisine on the Corner and the crew from TheBillCheck. Chef Anslem Allette, a good friend of the EAF family, is the band leader for this parade of indulgent dishes that adds another dimension to that signature KRAVE experience we enjoy.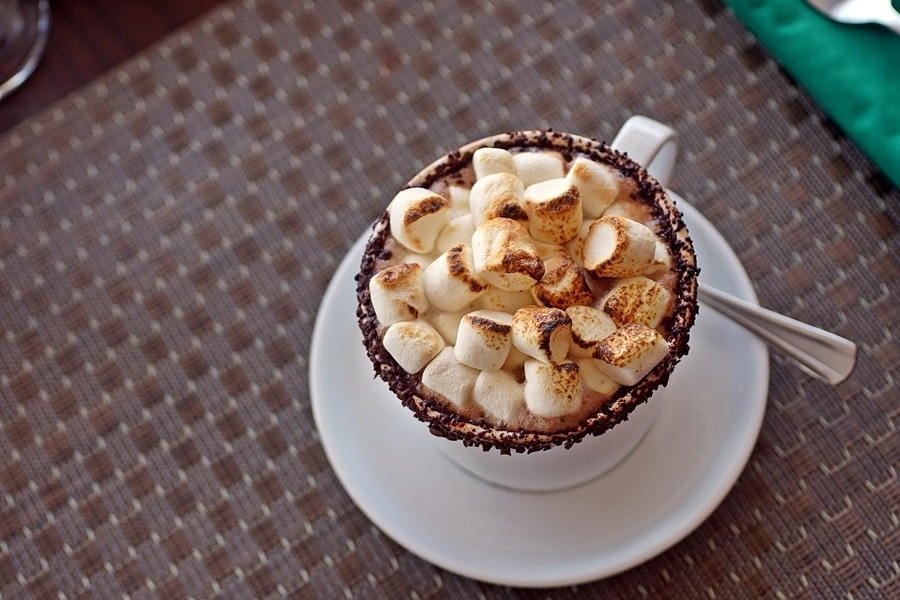 The show wasted no time in getting to de niceness. Nobody had a clue when the hostess offered hot chocolate she meant this piece of art with toasted marshmallows on top.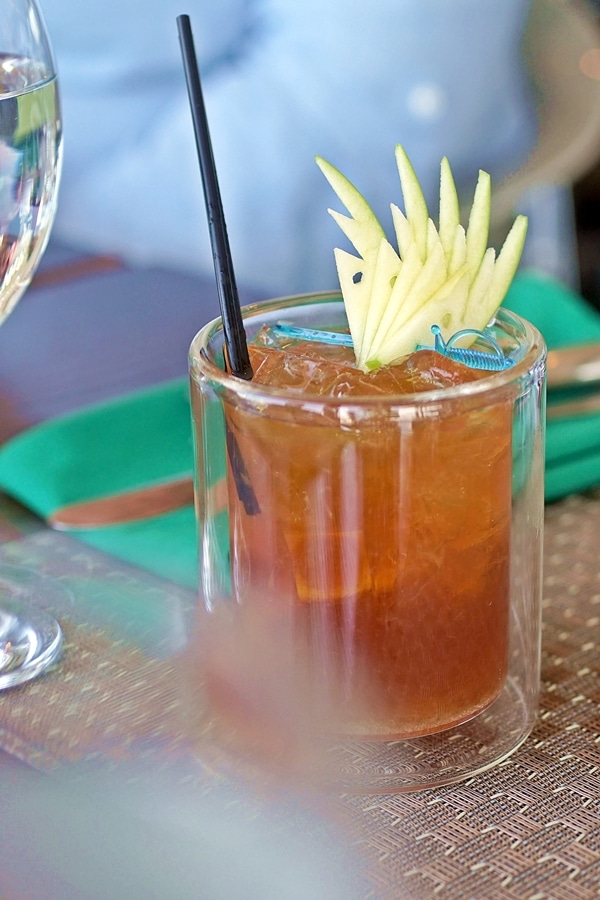 We have a philosophy that the only time to crack a bottle is anytime. So the breakfast cocktail menu is right up our alley. Featuring drinks like this mojito-ish blend of  Hennessey VSOP, lime juice and sugar called Bahia Girl.
The Portuguese Daisy is a blend of Port, Cognac, Lemon Juice and Sugar that creates a surprising Sorrel twist hidden in there. All of a sudden, a boy start to feel real Christmasy up in that breakfast.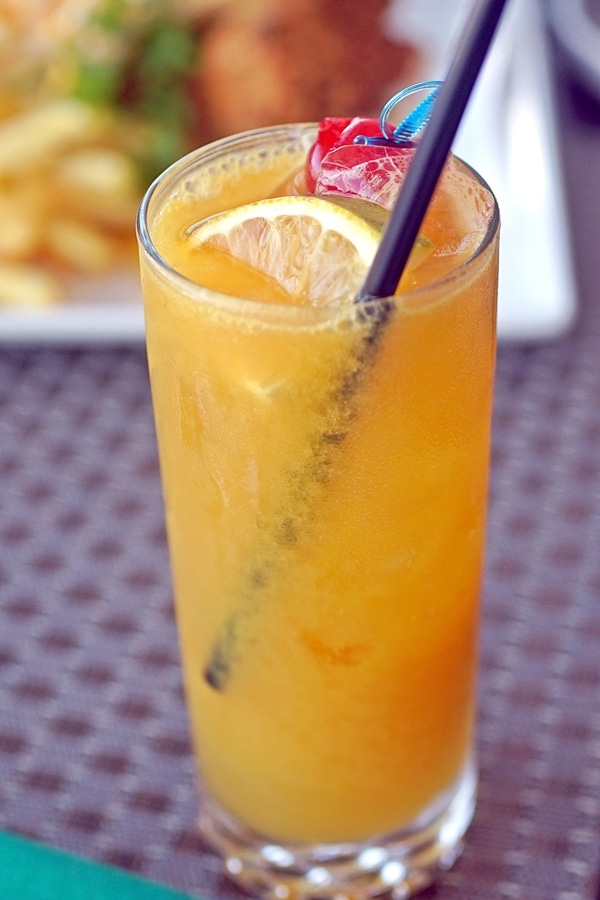 Keeping it in the breakfast zone, there is this number called a Good Morning Darling. We suspect the darling is in there to play on the fact that it's made with the most loving fruit… passion fruit. Jus maybe. Either way it's a nice, bright, tasty option for a morning munch featuring passion fruit, orange juice, peach schnapps and Myers Dark Rum .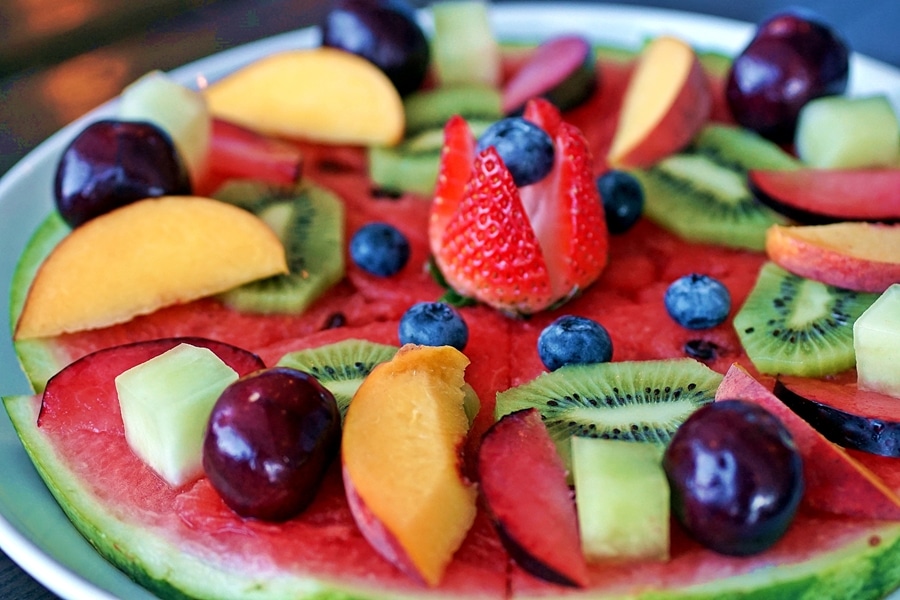 Talkin bout fruits, there's a nice fruit platter to pick at while waiting on your order.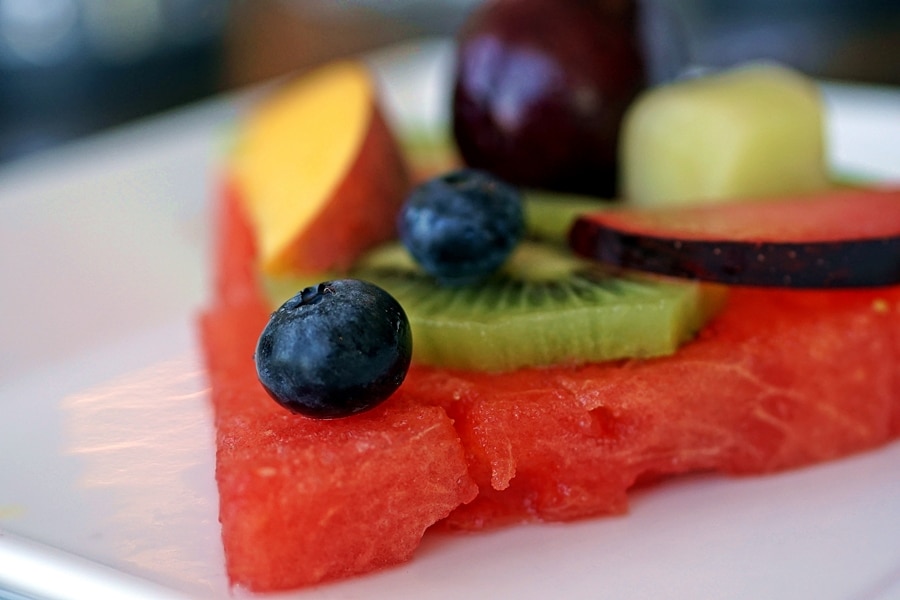 We took full advantage of it.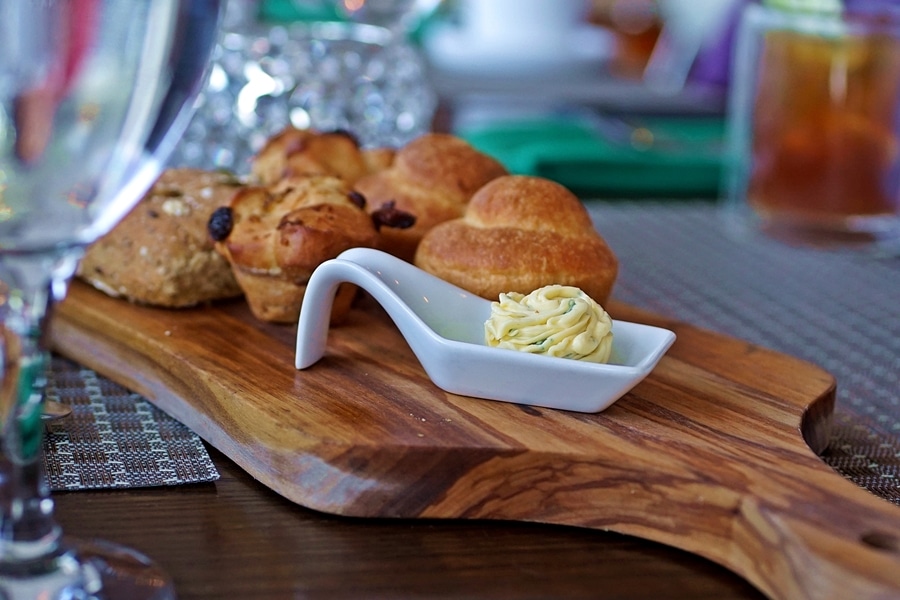 And a bread board featuring some tasty specialty bread with herb butter. Oh! By the way, these as well as the waffles, pancakes, buns, rolls and loaves for the items are all made from scratch, in-house. And that's a big deal that says a lot about quality ingredients. But our advice is, if you're not a big eater, take it easy with the bread because the portion sizes coming up are healthy.
So you can keep it simple and order a short stack with bacon and omelette…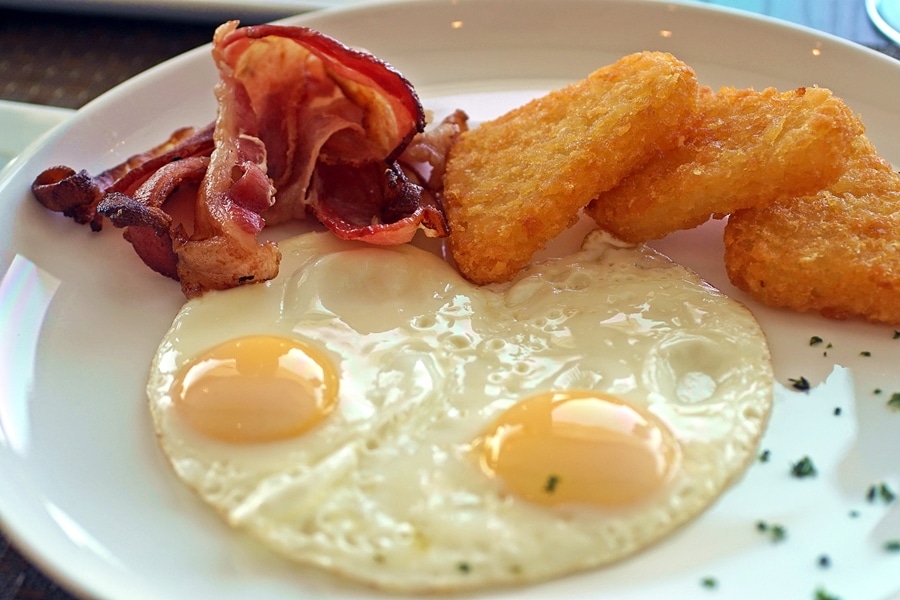 Or even the classic sunny side up eggs with bacon and hash browns.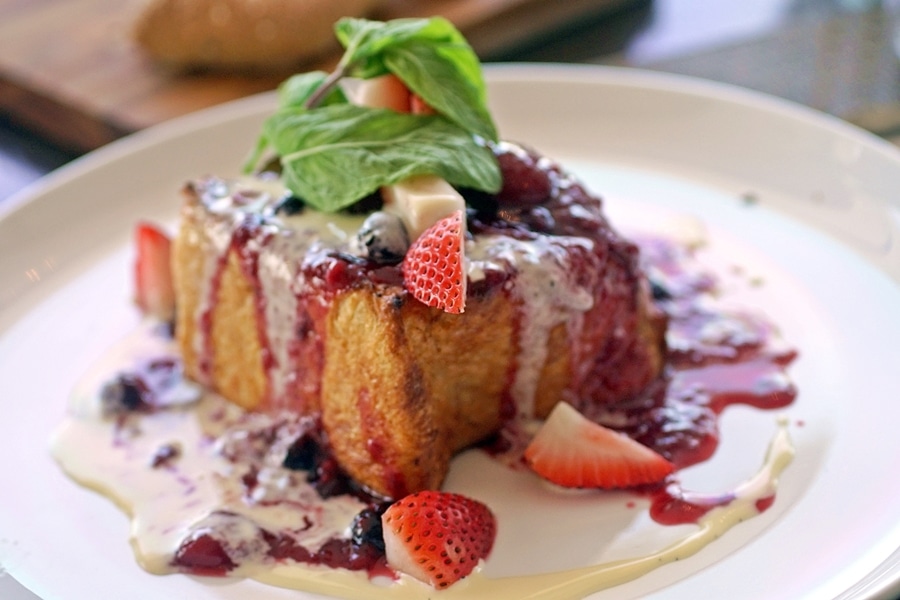 But you can also delve into the deep end with offerings like The Double Cut. Thick brioche French toast with a berry compote, cream sauce and fresh berries for topping.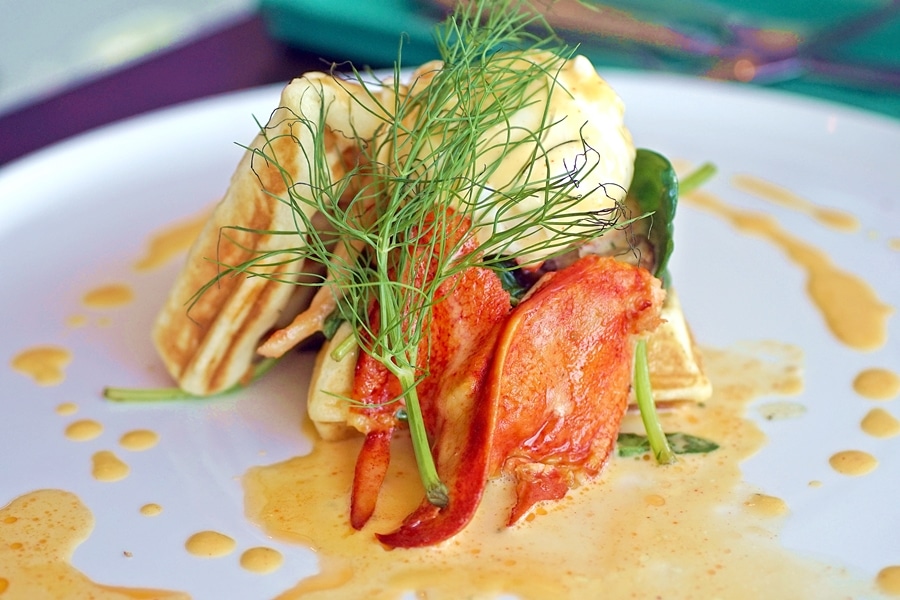 Hands down the most indulgent sounding treat on the menu is The Lobster Benedict. And it looks really good too. Makes yuh feel like yuh doin some premium dining. It's Maine lobster meat with waffles and a poached egg all drenched in a creamy Hollandaise sauce. Niceness.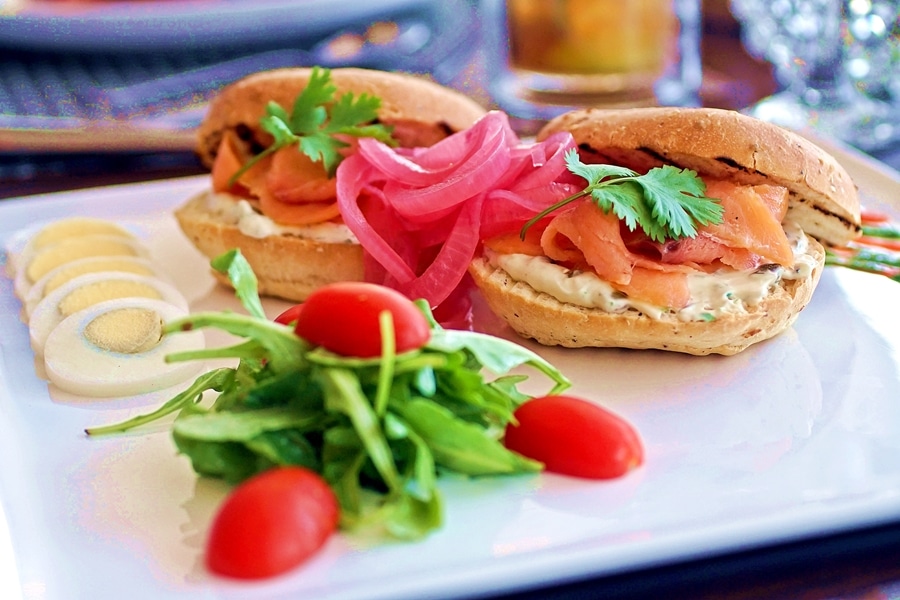 The Krave Lux puts a tasty twist on the usual bagel and cream cheese, with a coconut bake bagel loaded with cream cheese, smoked salmon, pickled veggies and served with boiled eggs and a fresh salad. Smoked salmon sliders more or less.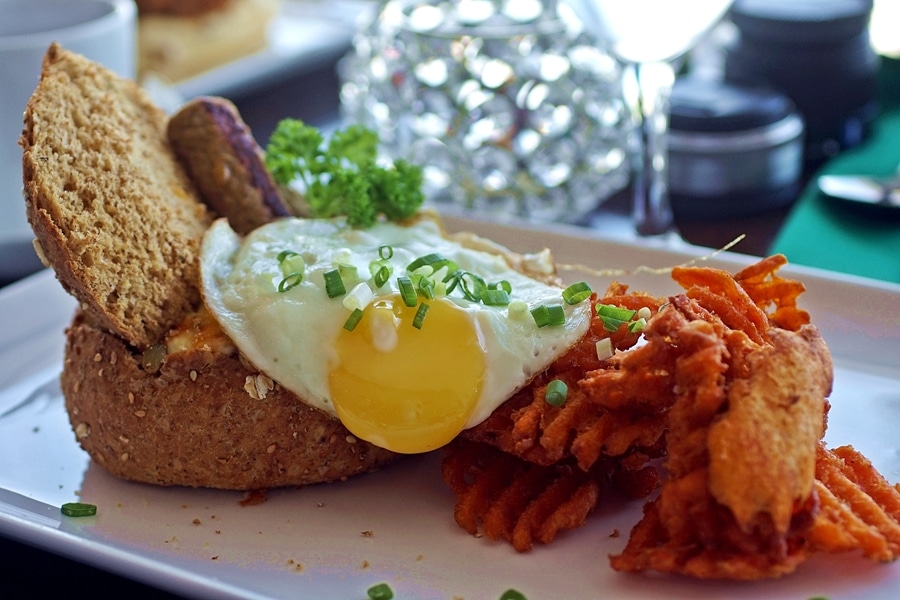 Well the dictionary could put this pic as the definition of comfort food. They call it the Eggcellent Bread Bowl. A multi-grain bun hollowed out and filled with tomatoes, cheese, onions and mushrooms, then served with turkey sausage, a fried egg and a portion of sweet potato fries.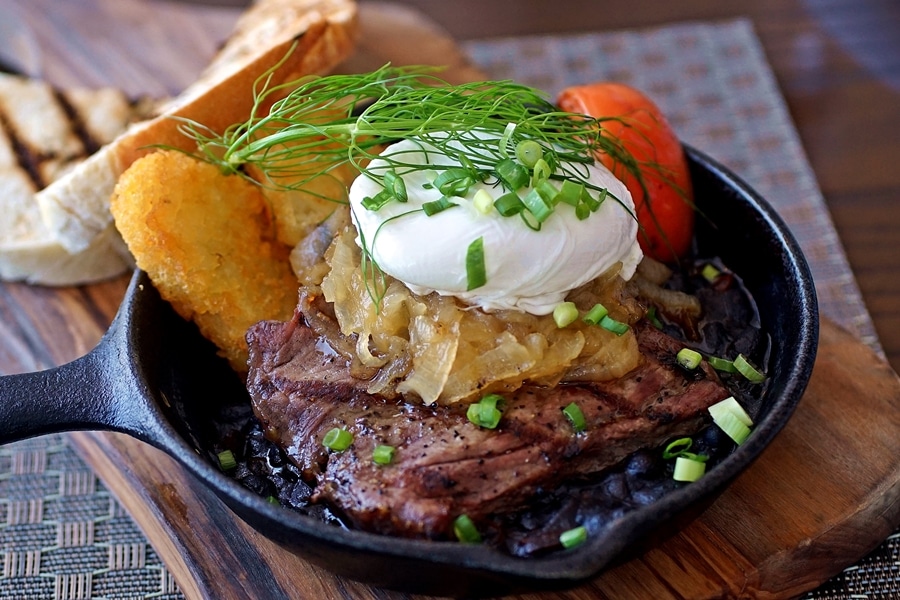 Steak and eggs is a well loved breakfast meal. So the good people at KRAVE designed this skillet option. A  4oz Ribeye steak topped with sauteed onions and a poached egg, served with black beans, hash browns and country styled toast. Hear nah!
Rapidly becoming popular in T&T is Chicken & Waffles. They're doing it nice at KRAVE with Southern fried chicken tenders on a fluffy waffle, topped with a flavorful cheese gravy… AND more cheese. Next to a flowing portion of fries, I can safely say it is a hearty helping. If yuh goin, go brave!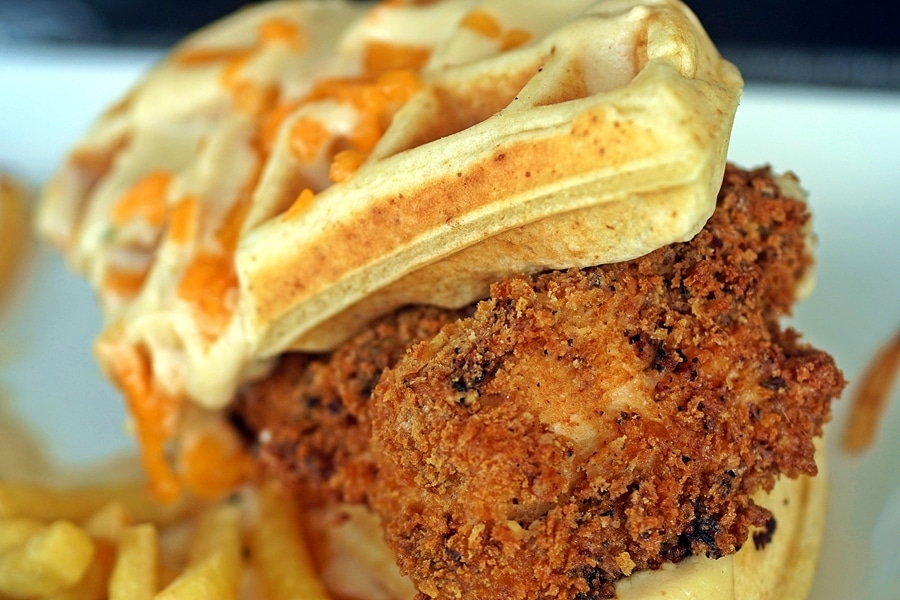 The texture and flavor of the chicken is what jumps out in this dish. Jus take it in a little closer. Nice right?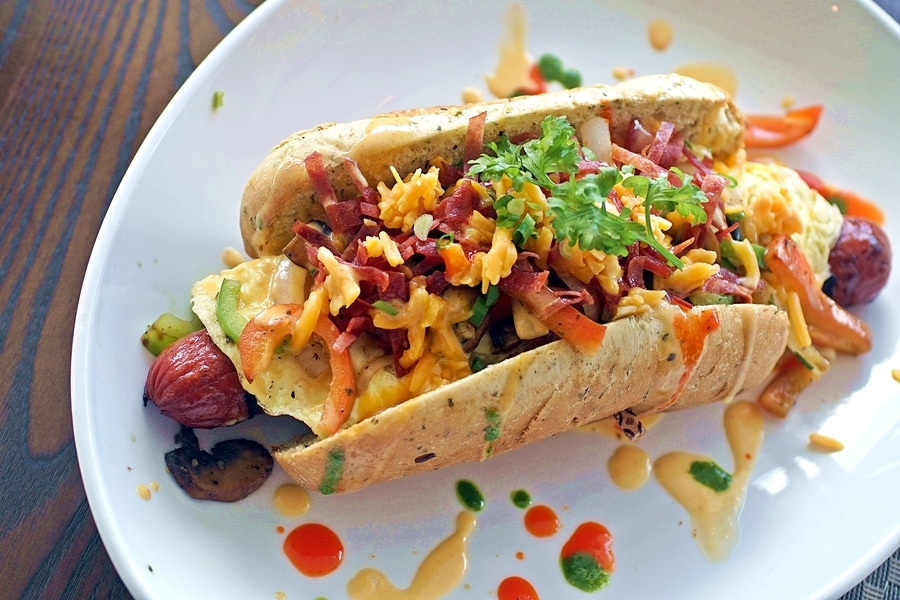 Everybody overlooked this one, probably because a breakfast hot dog is a pretty different concept. So the wise Leslie Ann St. John got one for the table to demonstrate its epicness. They call it The K-9.  (see what they did there?) First off, it's a foot long all beef sausage wrapped in an omelette. The whole thing is housed in a custom herb bun and topped with mushrooms, onions, bell peppers, bacon and cheese.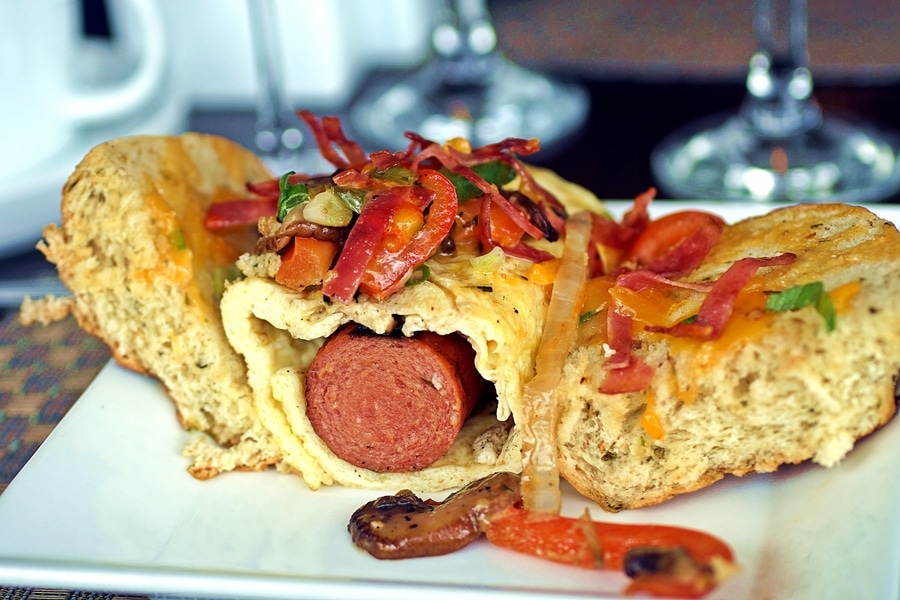 It's a fun dish just from the size of it, but it's real serious about flavor. Not suitable for light snacking at all. Iz a proper belly full. A cool way to end the morning too. The verdict? The Modern Chic Breakfast at KRAVE is a nice treat that's more than worth the drive. Thanks for having us Leslie. Was a nice reminder that we need to make the drive a little more often. Check out times, full menu and reservation information here.